Chivalry isn't necessarily dead, but it sure as hell isn't as prevalent anymore. I'm a hopeless romantic and I love old fashioned romance, so I compiled a list of 5 easy things for you to fellas to do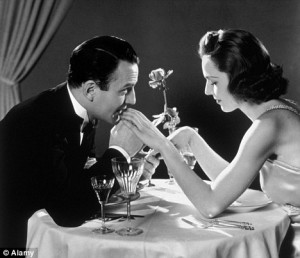 when you're dating or even just trying to…hook up. Come on boys, bring these qualities back!
1. Make plans in advanced. When you're in high school or even college, it's okay to be spur of the moment and not always have plans more than 24 hours in advanced. BUT, if you're over the age of 23, you need to get it together and actually reserve the girl from before.
2. Call, don't text. I've dated guys who either only called me or only texted me. I found that the older ones liked to pick up the phone to talk and the ones under 30 resorted to texting. Find a happy medium. CALL to ask her out on a date. Patti Stanger says that girls fall in love with their ears so pick up the phone! Also, if you're just trying to mess around, I promise you'll get more bonus points if you call once in awhile. I know we're all busy swiping left and right these days, but this is a great way to water the grass where you have it.
3. Open doors, pull out chairs & walk her to her door. I mean, this is just polite and common sense. Opening doors is so easy and underrated but makes the biggest difference. Also, if you're picking her up and don't want to come to the door, at least get out of the car and open the car door for her.
4. Bring her flowers. If there is any girl out there that does not love flowers and wouldn't melt if someone brought them to her, please say I. It makes the girl feel special and as though you actually care. Yes, it's okay to show you care – enough with the constant game playing! I say that by the 5th date, there should be some flowers involved! If you're from LA, you know that there are random people on the streets of this city selling roses to people on dates, which is SO awkward especially if you two aren't comfortable yet. But you know what wouldn't be awkward? If you bought a single rose. If that's too much for you then just wait until another date to bring the flowers. 
5. Walk on the correct side of the street & beside her on the stairs. In the olden days, the man would walk on the side where the traffic was. The man was supposed to walk on the curb side in order to prevent ladies from being splashed or attacked. Walking behind a woman going up the stairs was considered inappropriate, especially if she were to wear a mini skirt. It showed a sign of respect that he didn't have his eyes on her thighs/butt. Instead, the gentleman is supposed to walk beside his lady or slightly in front of her. This last tip is super old school, but it's one of my favorite things to see. 
Ladies, chime in here! 
Happy charming and romancing, boys. Thank me later 😉
xo NM