Living in Los Angeles, Las Vegas is only a hop and a skip away. As you know from my blog posts, I've been to the city of sin quite a few times in the past 12 months! Well, guess what? I just got back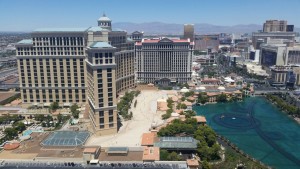 from a bachelorette party in Vegas and I'm here to share with y'all all the details about my stay at The Cosmopolitan Hotel.
It's no secret that I prefer the Encore over any hotel in Las Vegas, but after hearing so much about The Cosmo, my group of girls and I decided to give it a shot. Let me make a note here and say that prior to booking, the hotel had told us we could upgrade for free since it was a bachelorette party and that we could have a roll-away bed in our room. Upon arrival, we were charged for the upgrade and were told that the extra bed was not allowed in our room due to it being a fire hazard. Had we known this prior, we would have booked the two-bedroom suite months ago instead of now being stuck at a standstill where any additional upgrade to that room would cost us an additional $800/night.
My entire 3-day stay was a complete and utter disaster. I mean, I had to ask the manager(s) if this was a sick and twisted joke they were playing on us.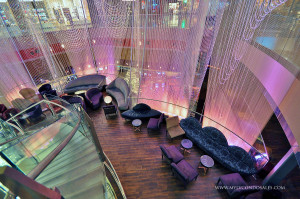 We had to switch rooms THREE times. The third time we switched because we needed a pull out couch since we could not get a roll-away (one of the girls is pregnant and needed space), only to find out at 5am that the couch didn't actually pull out into a bed! How did we find this out? We called to have the staff help set up the bed for us. Once they told us it was only a couch, the staff member said (AND I QUOTE):
"Next time, you may want to consider staying at a Comfort Inn or a motel of the sort."
At 360 Canadian dollars a night (our guests were from Toronto), I don't really think that comment was appropriate nor was it warranted as I could very well afford to stay at a nice hotel, thank you. And by that point, I would have rather stayed at the Comfort Inn – I'm sure the service is way better.
The hotel staff told us to switch rooms (for the fourth time) at 5am — at that point, I wasn't going to ask a pregnant woman to pack up her things yet again and move. Not to mention asking the hotel for anything meant having to wait over an hour for service.
Lunch at The Henry? Waited over an hour for the food to arrive and 30 minutes to get a check. Rude waiter who laughed at us when we asked how much longer the food would be ready in.
Dinner at STK? Had to wait for over 25 minutes for someone to even ask if we wanted anything to drink. Also sat us 20 minutes after our reservation time.
You guys.
I might have spoken to every manager and employee after 3 days. Everything that went wrong, could have went wrong. We booked the hotel through a travel agent, so apparently they could not comp us at least a night. Instead, they gave us $100 credit towards our dinner at STK and waived the upgrade/roll-away charges. In all honesty, they should have given us at least a $200 dinner, remove resort fees & upgrades/roll-away charges. That's the equivalent to 1 night.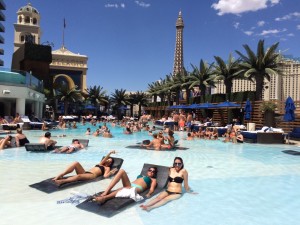 While the hotel is absolutely beautiful and the Boulevard pool is sick, you will never see me stay at The Cosmo ever again. I'm so disgusted by the staff's rude behavior any time we requested anything (which was never delivered, by the way). For a hotel that prides itself on being at "maximum capacity every weekend in the summer" or at "the highest price point on the strip" (false – Encore is), they should be well prepared to handle it. Remember how the Titanic prided itself on not needing as many life boats because it was made of steel? Yeah, well The Cosmo is about to have the same experience and we all know what happened when the boat hit the glacier. 
I'll be staying at the Wynn-Encore from now on. Shouldn't have strayed from a great thing when I had it.
xo NM