I am no raver but if [typography font="Cantarell" size="14″ size_format="px" color="#ff6666″]Lady Gaga[/typography]  makes that the theme for her concert, count me in! 
Last night I surprised my mama with tickets to see Lady G at the Staples Center in downtown Los Angeles. My mom has been begging me to take her to see her favorite queen and finally my brother and I succumbed and bought her tickets for her birthday. 
I have to admit, I wasn't the biggest fan of Gaga until last summer, but I was so excited to see the way she puts on a show. Everything this woman does is a production and you can't deny the brilliance of that.
The show started promptly at 8pm with K-Pop girl group, [typography font="Cantarell" size="14″ size_format="px" color="#ff6666″]Crayon Pop[/typography] . Don't really understand why they were Lady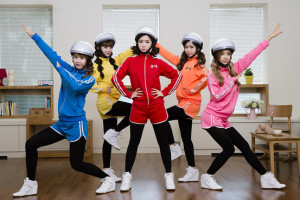 Gaga's opener, but okay. Couldn't understand one word they were singing except for "saturday night", but the super fans next to us seemed to know every.single.word. Cue in me and mama Mora heading to the bar to drink and mingle with fellow monsters.
Everyone was dressed to perfection! I mean the effort these people put into their outfits for Gaga is unreal! My mom wanted to take a picture with all of them. 
We headed back to catch the second opening act,[typography font="Cantarell" size="14″ size_format="px" color="#ff6666″] Lady Starlight[/typography] , which immediately caused me to get up and go drink more. She was horrible. WTF was that? The only person feelin' her was herself. She was killing out buzz for sure and everyone around us was bored. Note to Lady G: get rid of her next time. She's annoying and sucked the energy out of us.
Finally after what seemed like HOURS, the queen herself emerged and got us ready for the best night ever! It literally took her 2 hours to come out and by that point I had drank away my boredom and just wanted to sleep. When Lady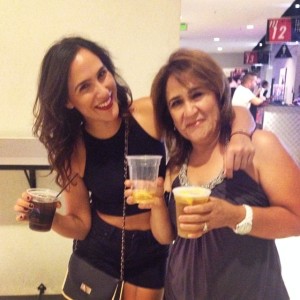 Gaga emerged, it was magical. Her stage was elaborate, incorporating her major sponsor Absolut in a very classy way in the pit. The costumes were immaculate and the energy from the crowd was like something you've never felt before. 
Lady G brought her A game for us. Everything was so amazing and I loved the fact that she celebrates peoples individuality, encouraging them to be who they are. You don't see a lot of stars like that. She's so gracious, so genuine and knows how to relate to audiences of all types. She sang songs off of Art Pop and old hits like Bad Romance and Just Dance. We were in heaven!
The best part? Seeing her prance around in almost no clothing. It's no secret that Gaga has been under heat for gaining a bunch of weight recently, and the fact that she pranced around owning her body was really inspirational. Her body is great but it's not unattainable the way most pop stars are. She has curves, she has flab, and she owns every inch of it. She even said "Fuck your six pack!" during the show.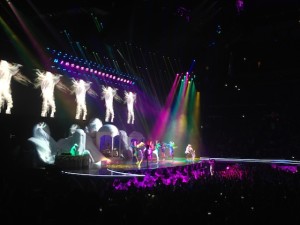 Overall, the performance was simply amazing. It was a full on production. If Lady Gaga knows how to do one thing, it's how to put on a real show and get your audience to connect. 
Mama Mora and I had a blast and can't wait to go to the next one!
xo [typography font="Cantarell" size="14″ size_format="px" color="#ff6666″]NM[/typography]