If you know me or went to high school with me, you knew about my love for one of my high school English teachers, Mrs. Gilbert, or Mama G, as many of us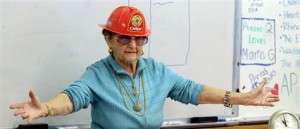 "bubbies" called her. I was obsessed with her — I would hear her over the loud speaker screaming WAKE UP SENIORS, see her walk into my classrooms to talk to my teachers (also her former students), and I would watch her as she sat front and center at every single one of my drama performances. When I learned I would finally have Mrs. Gilbert for English, I was ecstatic. I looked forward to her class every other morning, as she told us stories of how she taught generations of families, how "little old Rosie" (who never won anything in her life) won a sports car, and how she was able to survive even the worst of times.
It became an on-going joke with the people seated around me in her class about how long it would take me to gush over her and freak out over how cute Mrs. Gilbert was. It never took long. You see, I knew I was in the presence of something great. I knew that having a teacher who was 89 years old at the time but had more energy than all of us combined was a rarity. And I knew that whatever she had to teach us would stay with me for a very, very long time.
Mrs. Gilbert became a teacher at Pali High when the school opened in 1961 and worked until this past year. She was one of the oldest, if not the oldest, full time teacher in the nation. Mama G did not accept a salary while working at Pali; she donated generously, giving us a pool, newly renovated theatres,and hundreds of scholarships, just to name a few.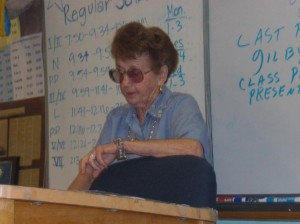 She introduced me to my favorite book, The Stranger, pushed me to keep writing, to keep being a creative and even taught me the Charleston as I sat with her making costumes for one of our shows — I would sew and she would teach me all about the 1920s to help me prepare for our production of Thoroughly Modern Millie. If you were a "dramie" in her class, you would come to expect seeing praise on your paper after she attended your show. 
To so many of us, Mama G was invincible. Especially when she would wear her red fire hat and say, "I'm on fire, bubbies!" There was no one like her. I don't think there will ever be someone like her. I know we don't live forever, but for some reason, I always expected her to. I really believed she would live long enough to teach my kids. I think we all did. But when she retired this year at 95 years old, I knew the time would come soon. So,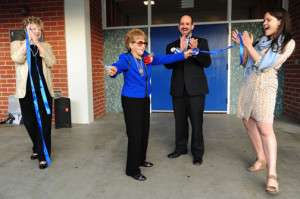 when the news came in last night that our beloved Mama passed, my heart broke a little. As I logged on to my Facebook, I saw my timeline flooded with statuses about how our Mrs. Gilbert passed away and what an impact she made on thousands of lives. I saw our little Pali High community come together to share stories, express grief, and be there for one another. It is truly beautiful to see what an impact one person can make on so many people. She remembered every single one of her students, remembered where they sat in her class and what they wanted to do. And that makes it all a bit easier.
When I saw her at her retirement party in March, she remembered I went to USC (even though she was a Bruin for life), remembered I was in drama and even recalled how I was able to pass the AP Lit exam without actually being in AP Lit. I told her it was all because of her and the passion she passed onto me. She inspired me. She made me want to read more, to write more, and to give more. And for that, I'm forever thankful to my Mama G. I hope the angels are up there dancing the Charleston with her, just as she did with me. 
xo NM