I just celebrated my birthday this past weekend, and if you know me, my birthday makes me very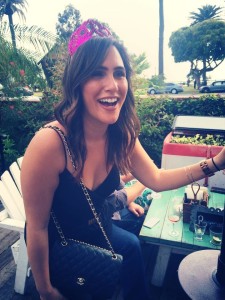 emotional and uneasy. No matter how much I try not to think about it, I can't help but feel uneasy as May 16th approaches every year. 
Last year, I wanted to celebrate and thank my friends for getting me through a hard year, so I threw an all girls tea party (you can find the amazing photos here). It ended up being real freaking stressful getting everything together, so this year I decided I was just going to go with the flow and I didn't want to make it a circus. I wasn't going to bend over backwards for everyone this year, I wasn't going to stress out or be nervous. This time, I was just going to sit back and relax. And here is what I learned…
People who want to show up for you, will show up for you. If they can't be there for whatever reason, they will schedule to take you out to celebrate. We all have busy lives, but I truly believe (and know) that those who want to will be there in some way, and those who don't want to, won't. Beware of friends that cannot handle it being all about you for a day or two. No one should ever make you feel bad about wanting one day to celebrate — now if you want to celebrate 5x, that's a different story!
A year ago, I eliminated the toxic from my life. 365 days later, my life has changed exponentially. 
I am a better daughter. I am a better sister. I am a better friend. I am a better businesswoman. And I am open to whatever the universe has in store for me.
I absolutely love the people in my life, I know who I can and cannot count on, and I'm so ready for this next chapter. From the bottom of my heart, THANK YOU for all of the sweet messages and social media posts. You all have made my year already!
I can't wait to grow with you, learn with you, and shine with you…
xo [typography font="Cantarell" size="15″ size_format="px" color="#ff6666″]NM[/typography]