I've been keeping this a secret for so long, but now I can finally reveal who our very first 'Man on the Rise' is! Choosing the perfect MOTR was difficult because there are so many talented young men out there who are killing it every day, but when I came across this one, it was easily a no brainer. Ladies, you will love him and men, you will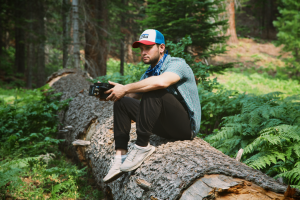 look up to him. So, without further adieu, I'd like to introduce you to Andrew Sandler, Give Me Mora's first 'Man on the Rise!"
Having just turned 26 years old last week, Andrew Sandler is already making waves in the entertainment industry one music video at a time.With mentors like Wilmer Valderamma, Anthony Mandler, Andrew Listermann, and Ryan Blair, it's no surprise that Andrew is making his mark in Hollywood with his talents, and rightfully so.
Born and raised in Los Angeles, he began his career as a child actor, starring in projects such as 'Gideon's Crossing' and 'The Minority Report.' While working as an actor, he quickly learned that his place was not in front of the camera, but rather behind the scenes as a producer, director and cinematographer. It was behind the camera where his creative juices and passion for story telling began to flow and evolve.
Andrew jump-started his career by making award-winning short films in high school and later college, solidifying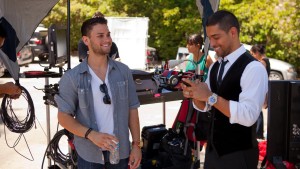 his passion for story telling. "Growing up in LA you're always told that the best film school is USC film school", he tells me, "but school wasn't really my thing. I was always more of a creative person." So, after high school, he moved to Santa Barbara for college, where he worked diligently to transfer to USC's prestigious School of Cinematic Arts.
"Having life experiences for a director is important, which is why my two years at UCSB were good for me because I had so many experiences there," Andrew says.
Having tackled the technical part to his life long goal of becoming a filmmaker, he then moved onto USC to major in film production at the School of Cinematic Arts.There, like so many hopeful students, he was able to make a name for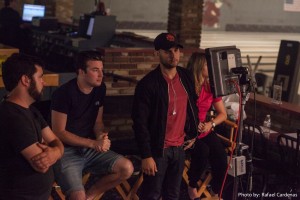 himself.  His talents not only flourished, they shined.  People took notice.  The best part to Andrew's filmmaking training?  Attending USC before everything went digital.  Part of what makes him so real is the fact that he experienced the true essence of being a filmmaker – especially while shooting on 16mm film. His eyes lit up as he spoke to me about the process of shooting on film and creating stories without dialogue.  There's nothing like watching someone speak about their passion – witnessing their body language change and noticing a piece of them sparkle as they talk about their job. And that's just it.  When you feel their job isn't something they just do on a day to day basis – they live it, they breathe it and they hope others can love it just as much as they do.
During his time in film school, Andrew and a group of his fellow film school friends started a small production company and were soon working with companies like Gap and Nike. What I love about Andrew is his determination to always be 5 steps ahead of the game, and he's done exactly that. He's never been afraid to reach out, ask for what he wants, and just go for it.
"Don't be afraid to think big. Don't be afraid to reach out because people want to help you. "One of the reasons I got into music videos was because of fellow USC alum, Anthony Mandler, who's work I had always admired. I reached out to him one day and he wrote back and we had a great lunch and he became one of my mentors."
Andrew graduated USC in 2010 and went on to produce, direct, and write 'Nothing To Lose', a documentary following the life of entrepreneur Ryan Blair. The Beverly Hills Film Festival honored Andrew for his work on 'Nothing to Lose'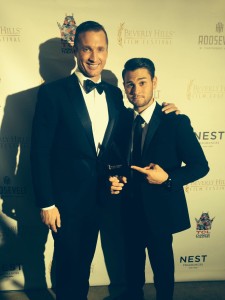 with the "Best Producer" award in 2014. The documentary went on to screen at different festivals around the country and gained notoriety across the board.
By the end of 2012, Andrew joined Riveting Entertainment, a multi-award winning production and post-production company that is most known for their commercials and music videos. It was through his mentor, Anthony Mandler, that he was able to meet Andrew Listermann, the CEO of Riveting Entertainment.
Together, Sandler and Valderamma brought the 'Salud' music video concept to Riveting. The video featuring LMFAO's Sky Blu, Reek Rude, Sensato and Wilmer Valderamma, was a surreal and accomplishing moment for Andrew, as he was a huge fan of everyone working on the project and in the video, including director of photography, Joseph Labisi. 'Salud' was a success, securing Andrew as both a producer and director. Since signing with Riveting Entertainment, he has worked with artists such as Mary J. Blige, Chris Brown, Ariana Grande and Steve Angello of Swedish House Mafia.
"Music videos for me is about honing my craft and experimenting with different visual techniques. I love working with artists who are collaborative and share the same passion of storytelling."
While Andrew plans to get into TV and film sooner than later, it's all about the bigger picture for him. Project Taco is his latest business endeavor and has solidified him as both a filmmaker and entrepreneur. He reminds me that it's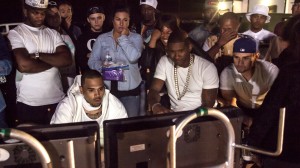 important to never get too comfortable or have one avenue, and to keep striving for the best.
The man is really the jack-of-all-trades; he's an entrepreneur, producer, director, writer, and can edit all of his own work.
Not to mention, Sandler is passionate, driven, and extremely talented. Any question as to why I chose him as the first 'Man on the Rise?' Didn't think so.
It is truly an honor to call Andrew a friend and I am so proud of how far he has come in the short time I've known him. I can't wait to see what's next – my guess is a VMA – and I'm happy to claim I've been a fan since the beginning. With his charming and fun personality, good looks, and pure talent, Andrew Sandler is the total package and an inspiration to those around him.
When asked for any final words or piece of advice he'd like to share he said:
"Don't let anyone steal your milk. People will constantly be testing you to see whether you're the real deal or not. And everyone knows that if you let someone take your milk the first day of school, you aren't as tough as you seem; soon they'll be taking your milk and so will everyone else. Don't be afraid to go big…and remember to have fun along the way!"

Mora fun with Andrew Sandler…
1)   Favorite movie? My favorite classic is Sunset Blvd and my favorite movie for pure entertainment is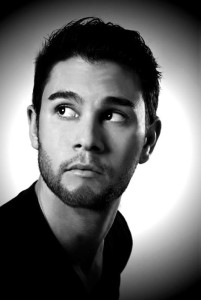 Armageddon!
2)   Favorite set you were on? Salud.
3)   Producing or directing? Directing.
4)   Artist you most want to work with? Justin Timberlake.
5)   Must order item at Project Taco? The #1! Pot roast taco.
6)   USC or UCSB? Ah! UCSB for the memories, USC for film school.
7)   Single or taken? It's complicated?
Get social with Andrew:
Stay tuned for part 2 coming soon when we get to go behind the scenes with Andrew on one of his music video shoots!