As a Blogger and social media/brand consultant (surprise! That's my side hustle), the two questions I often get asked the most are, "do you make money on your blog?" and "how can I make money on my blog?"
Whilst the former question is, what I consider, a little too personal, there are clearly no boundaries when you're a Blogger who shares her life.
With Give Me Mora turning FOUR on Wednesday, I thought it would be a good idea to address the business of blogging. It has become a bit of a phenomena the way people think they are going to wake up one day, quit their day job, and make a decent living off of starting a blog.
My first piece of advice:
DON'T QUIT YOUR DAY JOB!!!!
I repeat, do not quit your day job. You have no idea how many people ask me if they should quit their day job to pursue a career as a Blogger. No, no, no. Unless you have a strong following on social media (50k+), you should absolutely keep your day job. It is possible to do both.
I didn't quit my day job until my blog had been up and running for over 3 years. It took me 3 years to build a solid brand that generates a little income. By little, I mean barely enough for rent (if I paid rent).
Let's just be clear:
You will not make money right away.
Or even in a year's time. Read the above sentence over and over until you really grasp this concept. I'm going to be a little harsh in this blog post because, quite frankly, there are a lot of people who need to understand this.
If you are thinking of starting a blog or have just started your journey into the blogging world, there are many things you need to do before you even think about making money.
Here are some questions for you to answer:
What is your brand?
Who are you trying to target?
What do you want to get out of having a blog (i.e: a collection of stories, people coming to you for advice, etc)?
There are thousands of Bloggers, what makes YOU different? <— This is the most important question.
You need to give yourself a clear and concise direction. I honestly was just winging it for the first 2 years because I was all over the place. It wasn't until the third year that our team sat down and narrowed in on what we wanted.
Once you figure out what direction you're going in, you need to start tracking your traffic through Google Analytics. You need to be tapped into your readers and see what posts are resonating the most with them. For Give Me Mora, it's my personal pieces and exclusive entertainment stuff. I did a post about going behind the scenes at The Voice and it still gets 100s of clicks weekly because I knew that is what my audience would want to read.
After you get up and running, you can start reaching out to brands that match yours for cross collaborations. Begin guest blogging for other people to drive traffic to your site.
The first year is all about name recognition – you need to get your blog on as many platforms as possible.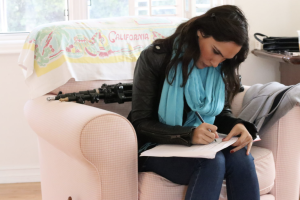 Trade for posts is the best way to start. What that means is that you can reach out to a brand and see if they will send you free stuff in exchange for Instagram and blog posts. Build your relationships.
DO NOT reach out to brands that have nothing in common with yours. It will confuse your readers and you'll look thirsty.
As a Blogger, your job is align yourself with like-brands. If you're a beauty Blogger with no kids, you're not going to want to work with a baby company. Make sense?
So let's say you have put in a year's worth of work into your blog – collaborations, guest blogs, at least 3 posts per week, etc. Depending on how good your numbers are, you can start (or try) to get paid. A decent following is 10,000 unique visitors per month, FYI. Brands will want to see your numbers, know your demographics, and where your audience is coming from. Start low and slow. If someone offers you $20 for a post, take it. It's better than $0.
Do not only do sponsored posts. You want your readers to know that you only endorse what you truly love, not just anything that's going to throw cash your way. Again, don't be desperate. It's not cute.
I don't post that often because my audience doesn't like it. This lowers the number of sponsored posts I can do without looking like every picture says #ad. Therefore, my rates are significantly higher. I set my rates, am a little flexible, but have a number we don't go lower than.
You can't have value for your posts until you do a substantial amount. There are many times where I have to say no because it's not worth it for us. The time and effort that goes into a post sometimes isn't worth the monetary value. BUT, it took time for me to build "Blogger self-worth." That came with time and experience.
Be patient. Great things take time. I can't even believe that after four years Give Me Mora is my income now. It is possible, you just have to take things step by step. Don't rush and don't let money be your main focus. 
xo NM