I kicked off the Emmys celebration with Doris Bergman's Eighth Annual Style Lounge and Party yesterday at Fig and Olive in West Hollywood. I had never been to an event thrown by Doris, so I was excited to see what everyone was talking about during the last Oscar season. 
The event, hosted by BuyWine.com and presented by Skinside Drinkable Collagen, was invitation-only and had over 100 of Hollywood's finest rolling in and out. The fan-girl in me could not help but look around at all times as I was spotting actors from my fave shows and the TV host in me thankfully kept me in check!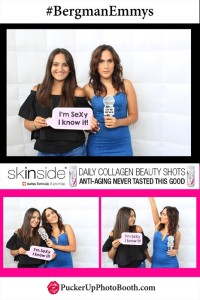 Between sipping on champagne and loads of Hint water, getting a hair touchup by Dry Bar, eating delicious food, and stopping by each station, I was one happy camper. The celebs were escorted from station to station, stopping for photos and to chat about each brand, while they were gifted some amazing products! As a new dog mom, one of my favorite stops was Pampered Pets/CJS Homemade Wholesome Pet Treats, who provided each guest a paw print duffle bag filled with a bunch of goodies for your puppy. I came home and gave Bronx one of the homemade treats and he LOVED it. Definitely one of my new favorite pet companies. 
I also loved chatting to Reema Beauty, a makeup company that also gives back to women and helps empower them. 10% of their proceeds go to fighting global hunger as well. 
Another amazing company for women I had the chance to learn about was The Abingdon Co. The founder, Abingdon, launched the Female Pilot Watch and constantly gives back to women. In fact, she had just shaved her head for a cancer patient in need! Speaking with her, I was so inspired by her kindness and generosity. Abingdon has already hit Forbes before the age of 30 and the watches are freaking dope.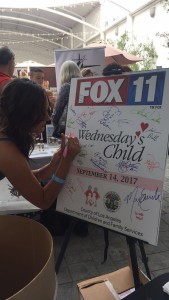 What I loved most about Bergman's event was how many companies also worked closely with charities or an important cause. The event featured Fox 11's Wednesday's Child, which is (taken from press-release for an accurate description) a weekly segment on FOX 11 News, Los Angeles, with Anchor Christine Devine.  'Wednesday's Child' highlights 'harder to place' children in the LA County foster care system who are in need of adoptive families.
Guests that attended included: 
2017 Primetime Emmy Winner, Kim Estes, Best Actor, Short Form ("Dicks"), Patrika Darbo, 2016  Primetime Emmy Winner,Best Actress Short Form ("Acting Dead), Primetime Emmy Nominees, Kevin "The Bull," Host of Emmy Nominated Series("American Ninja Warrior"), Kelsey Scott ("Walking Dead"), Mo Collins ("'F' Is For Family"), joined Multiple Oscar Nominee Bruce Dern, Genevieve Buechner ("UnReal"), Shiva Negar("American Assassin"), Hollywood Icon Deidre Hall ("Days of Our Lives"), Brigitte Nielson, Denise Boutte, Tony Denison ("Major Crimes"), Michael Campion ("Fuller House"), Naomi Grossman ("American Horror Story"), Nathan Davis, Jr. ("Detroit"), Gleb Savchenko ("Dancing With the Stars"), Steven Bauer ("Ray Donovan"), Lotte Verbeek ("Madam Secretary"), Marilu Henner,  Dee Wallace, Maria Conchita Alonso, Rosa Blasi ("The Thundermans"), and Toks Olagundoye.
Gifts and services were provided by:
Buywine.com, Skinside Drinkable Collagen, Abingdon Co. Timepieces, The Dry Bar, Montrose Regenerative Cosmetics & Laser Center, Curlifornia, Hair Swell, Chef Elliott's Red Velvet Bourbon Bundt Cakes & Signature Spices, Olympia Luggage, USA, Spa Girl Vodka, Hashtag Hooker, Signature Innovation Group Men's Wear, Art Lewin Bespoke, Hint Water, Sue Wong Couture & Fragrance, Pampered Pets Playhouse Resort & Spa, CJS Homemade Wholesome Pet Treats, My Saint, My Hero, Twisted Silver, Jeanne Vixen Jewelry, Reema Beauty, Burger Time, Single Dress, Kaya Di Koko, Single Underwear for Men, Mascarpone Cheesecake by Chef Turok, Rock Your Hair, Marriagemindedonly.com, CJS Pet Staycation, Sunless Beauty, Purad'or, Miradryla.com, "Loaded Dice Films' "Wheels" DVDs, Astrologer Kelly Surtees, and VIP Gift Bags provided by Buywine.com.   
Can't wait to see what Bergman does during the Oscar season!!
xo NM