I absolutely HATE black Friday. That's exactly what it is to me: a black hole I never want to even attempt.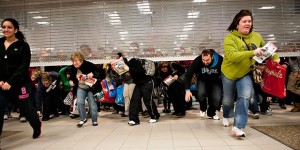 After discovering the beauty that is online shopping, I barely get my butt to the mall! Why should I? Everything in the stores are complete crap, nothing is original, and it's all so overpriced. $100 for a stupid blouse? I'll take my chances online, thanks.
I shared my tips on how to get through black friday last year, and they are still relevant this year.
Read it here.
Some people love the crowd, love going to the stores and spending, but I just am not one of them. I don't enjoy being trampled just to get $20 off. The sales aren't even that amazing! I will log on to all the stores on cyber Monday instead with no fuss.
What do you think of the black Friday madness? Do you put up with it?
xo [typography font="Cantarell" size="15″ size_format="px" color="#ff6666″]NM[/typography]