There's nothing more attractive than a woman who FEELS pretty. But you know what's even better than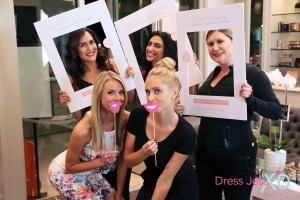 that? When a bunch of girls can get together for a girl's night out, get glammed up together and enjoy champage + yummy apps. 
On Friday night, Sali and I headed over Blushington in Woodland Hills, CA for the most perfect GNO with my girl Jessica Carroll (@DressJessXO). We got our make up done while sipping champagne and munching on cheese and crackers — I mean, does that not sound divine?
After our make up was done, we got to take fun pictures, mingle and eat (again) yummy desserts made by Jess herself. The #DressJessXO message is that [highlight]"when you look good, you feel good!"[/highlight] We couldn't agree more!
The event was so fun and it was so nice to be surrounded by such amazing women. We had a blast and are so proud of Jess for putting on such a great party! I also found my new beauty must-have: Becca highlighter — buy it now.
Take a look at the gallery below! And of course, be sure to check out Jess' blog here!  xo NM