I don't know if we can be friends if you don't love Chipotle as much as I do — or any type of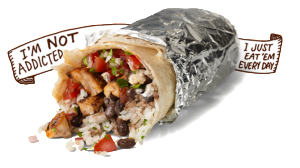 Mexican food for that matter. 
Chipotle is introducing their newest item, sofritas (vegan), to the menu and the company really wants you to try it! So much so that if you purchase a sofrita dish today, Chipotle will give you a free meal for your next visit.
I've already tried this vegan dish and it's pretty good. A little salty for my taste, but good overall. 
[highlight]Head over to your nearest Chipotle and order your meal with sofritas instead of the usual chicken/steak/carnitas and get a free chipotle in return! [/highlight]
Basically, it's a two-for-one deal going on. And you should do it. 
xo [typography font="Cantarell" size="15″ size_format="px" color="#ff6666″]NM[/typography]