Now that it's spring time, wedding season is in full force! And I've got wedding fever hunnies!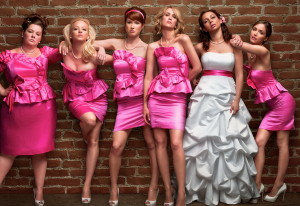 My beautiful cousin just recently asked me to be her bridesmaid and while I'm overjoyed, I'm also a little stressed out. What is the right etiquette? So many questions, not enough answers! This is the first to many posts about wedding etiquette.
I've talked to a few brides and brides-to-be and compiled the appropriate etiquette to have during this most joyous time for our loved one.
1) Be considerate. This is HER big day, not yours. If you don't like the theme of her wedding, shut up and suck it up. You'll have your big day and no one can say anything to you about it. The bride is already extremely stressed out trying to make sure she has covered all the bases for the most important day of her life, she does not need you complaining about things that don't really matter. Bite your tongue.
2) Do what she wants — even if you don't agree. I personally HATE the standard bridesmaid dress. I think they are all ugly, unflattering and just really annoying. I've had to spend money on a dress I would never wear again, and I'm going to have to do it again come September. No one wants to wear a dress they don't absolutely love, but if you decide to say yes to being a bridesmaid it comes with the territory. I told my cousin that I really hope she wasn't going to make us all wear the same dress, that I wish she could just tell us what color we wanted so we could go out and find one on our own that we loved — but that's not what she wants. So what do I have to do? Suck it up. Luckily, my cute little bride wants us to all be happy and is taking our opinions into consideration.
3) Throw a bridal shower. It's not just the Maid of Honor's duty to throw the bridal shower, it's also the bridesmaids'. Everyone should split the duties as to make sure the MOH isn't getting overwhelmed. Ask the bride if there is anything specific she'd like and start planning!
4) Be organized. Everyone is so consumed with the events — especially the bride — the best thing a bridesmaid can do is be organized! Keep track of gifts, events, anything the bride needs, etc. Also, you can buy her a nice planner to help keep her organized as well.
5) Help out. There is so much stuff the bride will need help with and, as one of her main girls, you should ask if she needs an extra hand with things. I already know my cousin may want headbands for her bridal party to wear, so I offered to help make them at a cheaper cost for everyone. We all have busy schedules, but offer what you can. There is no task too small in this case.
6) Stand guard. Sometimes the bride cannot stand her own mother or mother-in-law (which, let's be honest, the latter is usually the issue), and if that is the case, make sure to keep the woman out of your bride's hair the day of the wedding. Nothing is worse than a stressful mother or mother-in-law on a bride's big day.
7) Keep her hydrated. This is self-explanatory. Most likely the bride will be too wrapped up in the commotion to remember to drink water, so have a glass of water on hand every so often.
8) Warm up the party. Everyone wants their wedding to be the most magical night of their lives. Request good songs from the band and/or DJ that will get the crowd on their feet. Wear comfortable shoes and make sure you're helping pump up the party.
9) Don't engage in drama. There is ALWAYS drama during a wedding, but you don't need to be the cause of it. Don't like another bridesmaid? Too bad. Be nice, have fun with her, and act like her best friend during the festivities. You can resume to hating her later. Not happy with the bride? Oh well. Save your issues for later. The worst thing you can do is start drama with either the bride or one of the girls in the bridal party. It's rude and it's just bad karma. Act like you are having the best time even if you're not so your bride could enjoy these once-in-a-lifetime moments drama-free.
10) Show up. With so many festivities, it's hard to feel the energy to power through and still have a great time. No matter how sick you are of drinking or partying, you have to push through and drink/dance your butt off. No one wants a downer — especially not the bride — and the bride will be depending on great energy from her girls!
Any other tips for a bridesmaid? Post here!
xo NM