When you think of MAXIM Magazine you think nothing less than sexy. Every year MAXIM celebrates their Hot 100 issue and this year Hailey Baldwin hosted it. The event took place at the Hollywood Palladium and was produced by Karma International (#KarmaLife). 
I had never been to the Palladium for anything other than a concert and it was awesome to see them turn it into an event space! Super dope. 
After the celebs walked carpet, they stopped for a selfie-opp powered by My World On A Plate. Many of them even used the lighting from the make-shift selfie booth to take selfies on their own phones for social media. Once they exited the carpet, they entered the venue where there were bars stacked with Absolut Elyx, Perrier-Joulet Champagne, Tequila Avion, Red Bull, and water by CORE Hydration, to name a few. 
Drinks were flowing and guests listened to deejay sets from DJ Savi and DJCJ, Pravin Shaw and a special guest performance by DJ Khaled. I was a little disappointed to see Khaled on his cell phone during a lot of his set, but I later heard that there was some stuff going on behind the scenes, so I'll give him a pass this time. There was tons to do, drink, and eat, but the best part for me was seeing some very recognizable faces and mingling with MAXIM's finest. 
Hailey stunned everyone in a white dress while we saw Blac Chyna in good spirits just a day after her car accident. After I was done with the carpet, I ran into the most interesting man in the world, Jonathan Goldsmith, also known as the face of Dos Equis. After reading this article, I was majorly fan-girling. I can't even lie on that one. He was super kind and talked to me for a few minutes before getting asked for more pictures by other partygoers.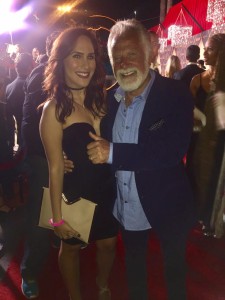 Christina Milian and Karrueche were laughing as they entered the party together and Ireland Baldwin stole the show as she supported her sister in a canary yellow dress. Jamie Foxx, G-Eazy, Joanna Krupa, Dorothy Wang, Justine Skye, Wiz Khalifa, Floyd Mayweather, Chantel Jeffries and Delilah Hamlin were also found in the VIP lounge upstairs.
You guys, everywhere you turned you would find another beautiful face! It was crazy and definitely gave my ego kind of a hit. Hollywood is full of beautiful people and now imagine attending a party for the 100 hottest! It's tough, but it's also cool to step into that world.
I'm glad I get to share my journey with you and show you a real girl's view on it.  Special thanks to Maxim for having me attend! 
xo NM
Photo Credit: Getty Images along with my own images