Good afternoon readers!
I was having a much needed holiday last week but back with another chicken recipe for you. Soon you will have every possible chicken recipe you could think of!
Here is my chicken stir fry recipe…quick, tasty and healthy too! You can add noodles or keep it carb free.
Let us know how you get on!
Ingredients:
Chicken Fillet Strips (amount depends on how many you are cooking for and portion sizes)
x 2 Garlic Cloves
Spring Onion
x 5 Mushrooms
Light Soy Sauce
Sea Salt
Black Pepper
Sunflower Oil

Instructions:
Step 1:
Slice mushrooms
Chop spring onion
Crush garlic
Step 2:
On a medium heat pour oil into wok
Once hot add mushroom and spring onion to start cooking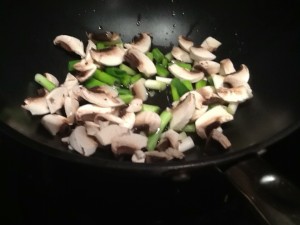 Step 3:
Add the chicken
Pour soy sauce over the chicken
Add grinds of salt and pepper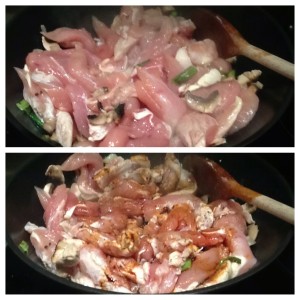 Step 4:
Cook chicken for approx. 8 mins
* the amount of time to cook will depend on how much chicken you are cooking
You can check the chicken by cutting a piece in half – as long as it is not pink on the inside it will be cooked
The outside will begin to look browner
* if you need to add more soy sauce then you can (this will stop it from burning)
Step 5:
Once the chicken in cooked you can serve it up
*Optional – add noodles!
Noodles can be a good addition to this meal – they are not a heavy carb and you don't have to have too many
You can cook these separately from the chicken
* if you choose to cook the noodles you can keep the chicken warm in a pre heated oven (approx. 160-170 degrees celsius)
Step 1:
Add some more oil to the wok if needed
Add noodles to wok
Pour soy sauce onto the noodles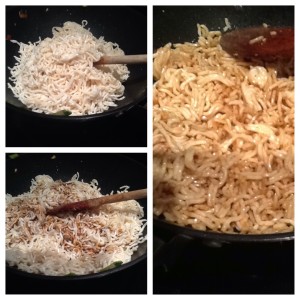 Step 2:
Cook noodles for 2-3 mins. until they lose their white colour and look more golden
I've also added some cabbage, courgette and asparagus as side veg.
This can also be cooked in the same wok (minimal washing up!)
It will take approx. 6-7 mins. for the veg to cook – you will know they are done when they soften.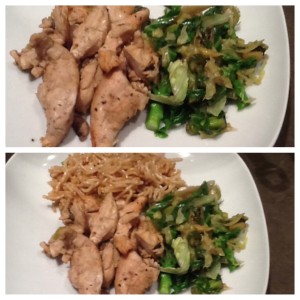 Yum yum! xo