Hi all!
I'm back…and very excited to be blogging more regularly with GMM again. I've been busy for the last 6 months or so exploring places to dine, and creating/finding recipes to share; the recipes will be a combination of my ideas, and those of other great cooks I have discovered along the way. Food has become more creative, and I am having so much fun exploring new ways to eat!
I'll return with something fairly simple…Chicken Thighs (my favourite part of the Chicken!) cooked with Teriyaki, and some clean and tasty vegetables on the side. A meal that tastes great and is also affordable!
Ingredients:
x4 Chicken Thighs (this will be dependent on how many you are cooking for)
x1 pack of Asparagus
x1 pack of Pak Choi
Teriyaki Sauce
Garlic Salt
Black Pepper
Step 1:
Pre-heat oven to 180 degrees Celsius.
Cover the raw Chicken with Teriyaki, and a sprinkle of Garlic Salt and Black Pepper.
*Tip: the chicken will not need to marinade in the Teriyaki for too long, as when it cooks in the oven the flavour will stick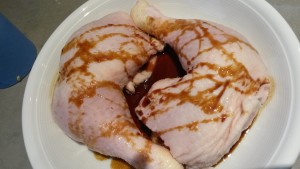 Step 2:
When the oven is hot put the Chicken in; it will take approx. 25-30 minutes to cook.
Once you have put the Chicken in the oven wash and cut the veg.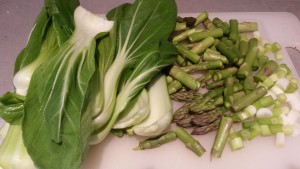 Step 3:
Heat some Oil in a wok.
Once this is hot add a pinch of Garlic Salt.
After about 30 seconds pour the veg into the wok.
*Tip: you won't need to cook the veg until about 10 minutes before the Chicken is cooked.
Step 4:
Let the veg cook for approx. 8-10 minutes.
*Tip: don't let the veg go too soft; you will lose all the nutrients!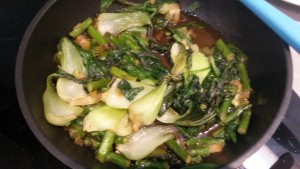 Step 5:
After 25-30 mins the Chicken will be ready to take out of the oven, and the veg will be cooked.
Serve up!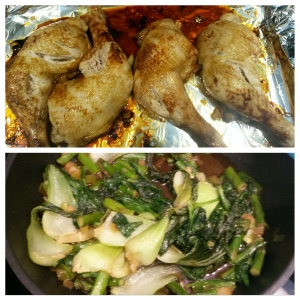 This is not only a quick meal to prepare, but healthy, full of nutrients, and filling. I haven't added a carb to this recipe as I don't feel it is necessary; the Chicken is filling enough. I know that some of you will want a carb though…my recommendation here would be light fluffy cous cous, bulgar wheat, or some white rice. This will give you the carb hit you are after, without being too heavy (like potatoes would be).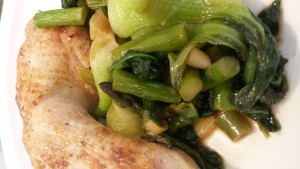 Let me know how you get on with yours!
Elyse XO