Cous cous is a carb I find to be a lighter option than potato – mix it with some veg, and you have a tasty side dish to have with your main. I have made it here with my chili flake chicken legs (you can also use other parts of the chicken with this recipe).
Oven cooking chicken ensures it stays juicy and you only need to add a small amount of extra flavour if you wish.
Another quick to prep and easy recipe to make. You will need about [typography font="Cantarell" size="14″ size_format="px" color="#ff6666″]30-40mins[/typography]  in total.
Enjoy xo Elyse
Ingredients:
x 4 chicken thighs & legs (amount depends on how many you're cooking for)
x 2 carrots
x 1 red onion
x 3 mushrooms
x 1 red pepper
x 4 spring onions
x 1 white onion
x 1/2 pack baby corn
x 1 lemon
Salt
Black ground pepper
Olive oil
Chili flakes
Cous cous (amount will depend on how many people you are cooking for – for 2 people you will want to measure about 1 cup (there will be leftovers)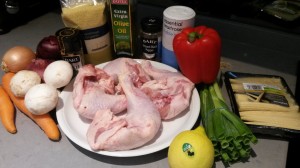 Instructions:
Step 1:
Pre heat the oven to 200 degrees celsius
Score the chicken, so when you add the flavour it spreads
Step 2:
Cover the chicken with olive oil (use your hands or an oil brush to spread)
Add chili flakes and the black pepper to the chicken
Squeeze some lemon onto the chicken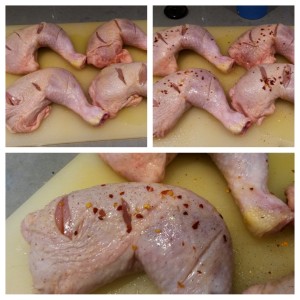 Step 3:
Put the chicken into the oven and let it cook for 15 minutes on this heat
Whilst this is cooking cut the carrot and red onion
Step 4:
After 15 mins, turn the heat down to 180 degrees celsius and add the carrot and red onion to the oven tray
Let this cook for a further 15 mins.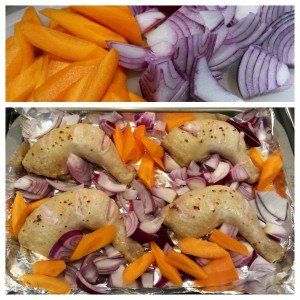 Step 5:
Cut up the rest of the veg and cook it in a wok so it softens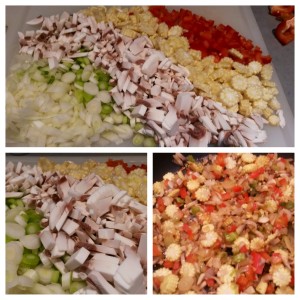 Step 6:
Whilst the veg is cooking prepare the cous cous
For every 1 cup of cous cous you will need 2 cups of water
Boil the water first, and then turn off the heat and add the cous cous
Cover the pot with the lid and leave to stand for 5 minutes
– this will allow the cous cous to soak up the water
Step 7:
When the cous cous is ready add the veg and mix it in
At this time the chicken should be ready to serve up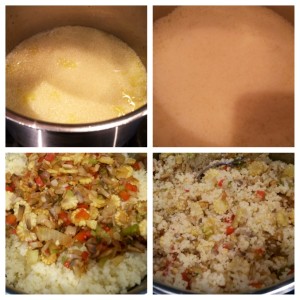 Step 8:
Take the chicken out of the oven and check that the middle is cooked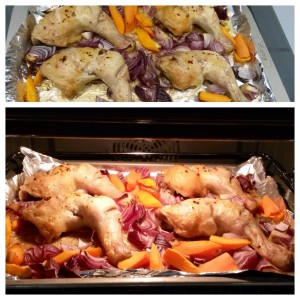 Step 9: