Doris Bergman's gifting lounges are always my favorite to attend during the awards season. She throws one every year for the Emmys and one for the Oscars. This year, Doris kicked off Oscars week early and it was a great start to the busy week ahead.
The event, which took place in West Hollywood's Fig and Olive restaurant, brought out some mega celebs, but the stand out was my QUEEN Viola Davis! I mean, does it get any better than that?! She is FLAWLESS.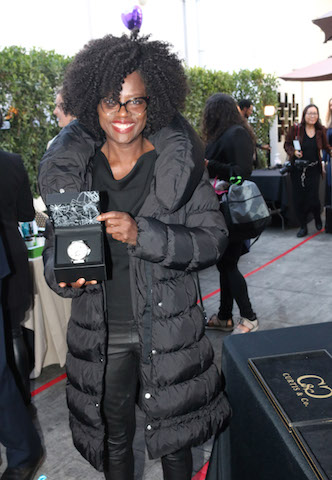 There were so many amazing brands at Doris Bergman's Oscars Lounge, hosted by BuyWine.com and presented by Curtis & Co. 
We drank some great wine and hit the booths to mix and mingle. The celebs were escorted from station to station, stopping for photos and to chat about each brand, while they were gifted some amazing products! I even ran into some of my friends, likefrom Days of Our Lives and Farrah Abraham from Teen Mom.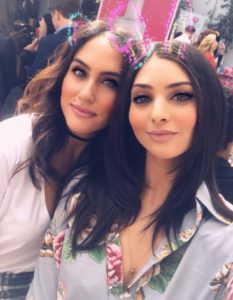 Of course, I have to give a special shout out to Beauty Kitchen by Heather Marianna. I recently collaborated with BK and launched an eye gel, and it made me so happy to see Heather there! Farrah and I are very close to Heather and were excited we got to support our girl. The Beauty Kitchen Oscars box is EVERYTHING! I mean, look at how big this bad boy was! And it was filled with everything from eye gels, to scrubs, to lotions. Definitely my favorite all-natural skincare brand. Guess what? Viola loves her Nic Mora for BK Collagen Eye Gels 😉
The event featured Fox 11's Wednesday's Child, which is (taken from press-release for an accurate description) a weekly segment on FOX 11 News, Los Angeles, with Anchor Christine Devine.  'Wednesday's Child' highlights 'harder to place' children in the LA County foster care system who are in need of adoptive families.
Other guests that attended include: Oscar Nominee Bruce Dern joined Multi Award-winning Grammy Winner Anita Pointer, Jake Busey ("The Predator"), Jon Mack ("Pandora's Box), Michael Campion and Juan Pablo Di Pace ("Fuller House"), Steven Bauer ("Ray Donovan"), Jake Allen ("The Quad"), Matt Murray ("9JKL"), Rex Lee ("Young & Hungry"), Dot Marie Jones ("Glee"), Jillian Murray ("Code Black") and hubby Dean Geyer ("Glee"), Joely Fisher, Marilu Henner, Maria Conchita Alonso, Naomi Grossman ("American Horror Story"), Primetime Emmy Winner Patrika Darbo, Golden Globe Nominee Susan Anton, Hollywood Icon Tristan Rogers, Comedian Judy Tenuta, Philip Boyd & Renee Lawless ("The Haves & Have Nots"), Richard Grieco, Victoria Summer ("Transformers"  Age of Distinction").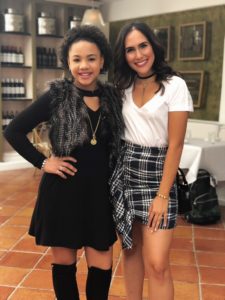 Gifts and services were provided by:
Buywine.com, CURTIS & C

o

. Timepieces, Precious Vodka, Beauty Kitchen, Pampered Pets Playhouse Resort & Spa, CJS Homemade Wholesome Pet Treats, CJS Pet Staycation, Life Coach William Constantine, Author Debbi DiMaggio/"Lights, Camera, Action," Team Powers Real Estate, Hemp Lifestyle Network, LLC, Hypo Footwear & Accessories, Impromptu Life, LLC, Montrose Regenerative Cosmetics & Laser Center Olympia International, Inc., Nail & Bone, Timmy Woods Handbags, Twisted Silver Jewelry, My Saint, My Hero Bracelets, Sue Wong Couture Gowns & Fragrance, Handmade Hearts By Hillel, Hint Water, Art Lewin Bespoke Suits & Tuxedos, Spa Girl Vodka, Rock Your Hair, Sunless Beauty, Balance Organic Body Butter, Author Alexis Hunter/"Joi Lansing – A Body To Die For," Black Horn Imports, The Hollywood Trinity, EinDrink, and VIP Gift Bags were also provided by Buywine.com
It was another great event and stay tuned for more Oscars coverage this weekend!
xo NM