OMG guys, I am seriously struggling with all of this holiday food!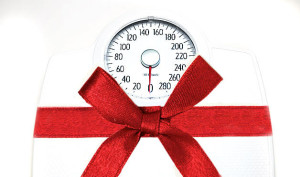 How is one supposed to lose weight for New Years Eve with all of this amazing food? Can someone please tell me? I'm trying to go somewhere tropical for NYE which means I need to be bikini ready and at this point, I definitely am NOT.
So, while I try to get my shit together, I thought I would come up with 3 tips to help keep that "pie off yours thighs":
1) Get your workouts in. You wanna eat? Fine. But at least try and balance it with some high intensity workouts. My personal favorites are workouts like Pilates, Pop Physique, and running intervals. I also go on a two-hour walk before Thanksgiving dinner so I don't have the guilt!
2) Moderation. I'm someone who likes to have 12 different types of food on their plates so I can try everything. And I'm also someone who forgets about the concept of moderation. But, if you want to keep the weight gain at bay, remember that you can try everything but not have a lot of it.
3) Stop when you're full. At our dinner table we're always talking and laughing, so it's super easy to get distracted and over-eat. Or, the food is just that good that you can't stop. Either way, overeating occurs. Eat slowly and be mindful of when you are starting to feel full. When you realize you're full, stop eating. Too hard? I pour water or diet coke over my food so I don't eat it anymore.
[highlight]Remember that one meal won't make you fat just like one meal won't suddenly make you skinny.[/highlight] Be mindful of what you're eating — if you binge one day, don't the next. It's a balancing act!
What are some of your tips for keeping slim during the holidays?
xo [typography font="Cantarell" size="15″ size_format="px" color="#ff6666″]NM[/typography]