Hey GMM readers – breakfast time is the best time!!
How do you like your eggs in the morning?
Here's an interesting take on a

fried egg

…you would probably expect the mushrooms but perhaps not the pepper or fresh tomato…it's a great combo if I do say so myself!
Eggs for breakfast is a really good way start to the day. You won't find yourself feeling hungry until lunch time.
Ingredients:
x 1 egg (or however many you wish to use)
x 1 pepper (any colour of your choice – I like red the most!)
x 3 mushrooms
x 1 tomato
Sunflower oil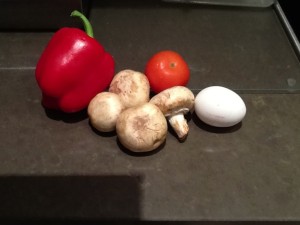 Instructions:
Step 1:
Cut the bottom of the pepper off

Then cut a whole slice, which is what you will use later on

Slice mushrooms
Step 2:
 Step 3:
Whilst the egg is cooking add the sliced mushrooms to the pan so these can lightly fry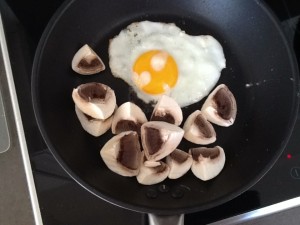 Step 4:
Let the egg cook for approx. 5-6 mins.

Once this is done the mushrooms will also be done

Slice the fresh tomato

If you want to heat the pepper slice you can do this too
Step 5:
Once all is done you can serve it up!
* notice the pepper surrounding the yolk – eating them as a combo gives the yolk and pepper a really good taste