I love a good night filled with fashion, desserts and a musical performance. Who doesn't, right?
Last night, I headed over to Salvage Bar & Lounge in downtown LA for a fun fashion night out with Oliver Sanchez.
The event, produced by Social Lighthouse, had a red carpet that was filled with celebs and fashion industry insiders including the cast of Hulu's East Los High along with Miss Guatemala & Rosie Rivera, to name a few. Once inside, we were greeted with yummy cocktails and healthy cupcakes. Yes, I said healthy cupcakes! You can find the yummy desserts here. We also helped ourselves to Sambazon drinks and had the option of placing bids at the silent auction.
The set-up was cool; Salvage boasts different seating areas from a VIP room to an outside type patio where guests can sit and enjoy their drinks or smoke a cigarette while getting a New York feel in LA. Very dope. If you haven't checked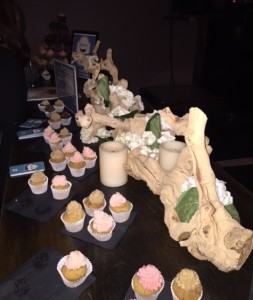 out Salvage and you're in the area, I highly suggest dropping by for a drink — especially during happy hour where the prices cannot be beat. 
What I loved the most, however, was that the event was partnered with After School All-Stars, an organization that provides after school programs to keep children safe and ensures their success in the future. Having the After School All-Stars meant a lot to the school girls who attended – and a lot to me. In fact, 3 of the girls from the program had the opportunity to be press and conduct video interviews! It was really sweet speaking to them about topics like social media and how to deal with the haters in your life. I hope they continue following their red carpet dreams and that I see them again in the press line! It's so important to get the youth involved in careers they love early on in their lives to assist them in working towards their goals.
Halfway through the night we were given an intimate performance by recording Frankee Razor; attendees were treated to his soulful sounds and a relaxed atmosphere. 
All in all, it was a great event! I had a great time meeting everyone and can't wait to see what Oliver does next. See him at NY Fashion Week perhaps? I bet we will.