FINALLY after much anticipation, the official Fifty Shades Of Grey trailer has been released! Let's rejoice everywhere and watch it 800 times until it actually comes out on Valentine's Day! Not. 
Take a look below and peep the full length trailer:
Okay, let's get into this real quick. Just when you think [typography font="Cantarell" size="14″ size_format="px" color="#ff6666″]Beyonce[/typography]  couldn't be any more fabulous, she drops the vocals for the trailer and most likely will have several songs on the soundtrack. All hail the queen.
As for the trailer/future movie:
I don't know why this became a movie in the first place. Maybe I'm biased because I'm trained in TV and it's my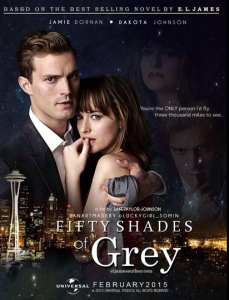 passion in life, but making Fifty Shades of Grey into a movie was stupid. HBO or Showtime should have bought the rights and made it into a mini-series. Why? Because as we all know from shows like "Girls", "Tell Me You Love Me", and "Californiacation", there are no limits to what you can show. Film has a lot of restrictions and yes, I'm well aware there are going to be 2 versions out in the theatre — one for us perverts that want to see everything and one more modest — but I also kind of don't want to sit in a packed theatre watching basically a porno. Sitting with a bunch of turned on strangers doesn't really sound like my kind of night, but if it's yours then mazel. I'd rather be watching in the privacy in my own home, personally.
As for the casting…again wtf? [typography font="Cantarell" size="14″ size_format="px" color="#ff6666″]Jamie Dornan[/typography]  I can get behind as Christian Grey. I would have much preferred Ian Somerhalder, but looks like Jamie will do a good job and he fits the bill. BUT [typography font="Cantarell" size="14″ size_format="px" color="#ff6666″]Dakota Johnson[/typography]  as Anastasia Steele?! No, no, and no. Did I already say no? Just no. What part of her fits the description of Ana? Ana is supposed to be a little thick, a little shorter and much more average looking. Dakota Johnson looks like a doll — she's stunning — and in no way would I ever believe that she was a normal looking person. Once again, huge mistake. I understand you can't make every fan happy, but someone like Lucy Hale would have been a perfect fit description wise. 
The trailer looks dope though and the fact that Beyonce is on it makes it win at life. I'm curious to see how this will play out.
Thoughts?
xo [typography font="Cantarell" size="14″ size_format="px"]NM[/typography]