Sushi can be freaking expensive – usually because you have to order a bunch to get full. Or maybe I just have the appetite of a whale, I don't know.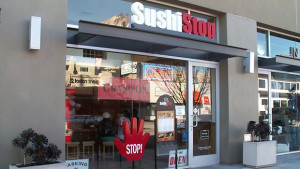 If you're in LA and looking to order a bunch of sushi without walking away having paid over $40, you're in luck. For #FoodieFriday, I've chosen [typography font="Cantarell" size="16″ size_format="px" color="#ff6666″]Bougie-On-A-Budget[/typography]  certified place, Sushi Stop.
Located on Sawtelle, or "Little Japan", this place is always crowded. [highlight]The sushi is good quality and most of the plates are $2.95![/highlight] Remember Sushi Mac? This is similar except the quality is WAY better.
I took my mom for lunch this week and here's what we ordered:
Veggie Roll. Can't really go wrong with this
Baked Salmon Roll. Tell them to go easy on the dynamite sauce, it was a bit much. I really liked this roll.
Spicy Tuna on Crispy Rice. The crispy rice needed to be crispier – wasn't as amazing as it looked.
Salmon Skin Salad. Okay, this salad is usually my favorite! Didn't love it because of the tomatoes and the salmon skin needed to be crispier.
Tempura Udon Soup. SO good!
Blue Crab Hand Roll. YUM! I could have had 3 of those.
Since I had been there before, I wanted to try new dishes. My favorite thing on the menu is by far the stuffed jalapeno! 
[highlight]Total amount: $23.66![/highlight] For two people! And we legit had so much food leftover.
Highly recommend you go here if you're in the mood for a casual, affordable, sushi experience. It's a great place for lunch and Sawtelle is full of cute places to eat or have coffee if you're up for dessert after.
Have you been to Sushi Stop? What did you think?
xo [typography font="Cantarell" size="16″ size_format="px" color="#ff6666″]NM[/typography]