Alright guys, I'm gonna keep it real here and say I have a serious shopping addiction that is causing me to go BROKE.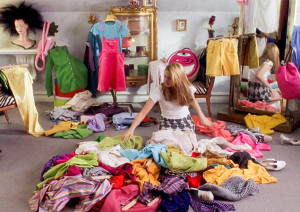 I can't stop and won't stop updating my closet. It's becoming quite a bit of a problem, actually.
BUT, I have found a cool happy medium — sort of.
The more you shop, the more clothes you have that you will no longer wear, right?
First, clean out your closets and see what's in good condition & what's still in style.
Now, this is the part where you can sell your clothes and make some extra cash! Yep, sell your old clothes and make some money to put back into your credit cards.
If you have the time, I would suggest taking pictures of your items and selling them on EBay. This is a bit of a process and it's pretty time consuming being that you have to make a trip to the post office every time you make a sale. However, you will get the most bang for your buck through EBay.
If you don't feel like going to the post office often, make one swift trip to the following stores:
Crossroads
Buffalo Exhange
Wasteland
You won't make loads of money but at least you can get some cash back into your wallet. Unfortunately, they won't take everything you have, but if you have pieces in good condition that are in style, you will probably be in luck.
I sold about 5 or 6 pieces and got $35 back. Not that much, but it's 3.5 hours that you won't have to work at your day job.
Wasteland is geared more towards brand names and vintage pieces but Crossroads and Buffalo Exchange carry more casual and contemporary clothing. You are guaranteed to sell at least one item from your pile of clothes you don't need!
It can get risky when you're in the stores because you'll want to shop! Shopping at second-hand stores is extremely affordable and you can find such great staple pieces for your closets.
And if that doesn't all work out, donate!
xo [typography font="Cantarell" size="15″ size_format="px" color="#ff6666″]NM[/typography]