As many of you know, I'm part of an organization named Kol Ahava.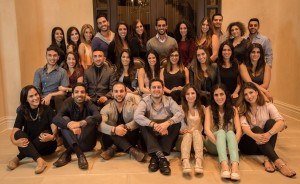 I joined the Kol Ahava family a year ago and I've been in love with this group of people ever since. It really is a fresh breath air to see a group of young professionals working together to better the world around them. And for that, I am so thankful to be apart of such an amazing organization.
Our latest event, Bnai Zion's Cabaret, is coming up on November 8th in Los Angeles and we could not be more excited! We have been working with our beneficiary, Bnai Zion, to raise money to build an underground hospital safe from missile and nuclear attacks in northern Israel. [highlight]Innocent Christian, Muslims, Jews & Baha'is are in danger every time Israel is attacked.[/highlight]
It doesn't matter what race or religion you are, the attacks effect everyone and we want to do our part to ensure that the people of Israel are safe and getting proper medical care.
Everything we raise will be MATCHED by a private donor! How amazing is that? And for that reason, we've set up a campaign where people all over the world can donate.
Click here to donate and see our video message. 
xo [typography font="Cantarell" size="15″ size_format="px" color="#ff6666″]NM[/typography]