Awards season is the best season, and tonight we are kicking it off with the Golden Globes!
There has been a lot of conversations surrounding equality and safe work environments and tonight those topics will be at the center of everything. 
Men and women will be showing their solidarity by wearing black…but I'm wondering why the #TimesUpNow movement went with the color black? Seems to me like no one really knows the real reason as to why. 
Everyone wearing black tonight is making me feel like I'm at another Persian wedding. Real talk. 
What can we expect tonight?
We're definitely going to be hearing a lot about gender equality and sexual harassment. All eyes are on the winners tonight and they will be taking their moment to express their thoughts. 
There were so many strong messages, especially on E! with many celebrities commenting on Catt Sadler leaving the network due to pay inequality. Let's get it started…
IT'S SHOW TIME!!!
Seth Meyers looks great and his opening monologue is hilarious! He handled the Harvey Weinstein drama, racism, and inequality, with class and was able to make it funny. So far, the Golden Globes are off to a great start and everyone looks beautiful.
For a list of winners throughout the night click here. 
Okay, does Jennifer Aniston ever age? She looks flawless. And I love that she presented with Carol Burnett.
Rachel Brosnahan for The Marvelous Mrs. Maisel!! This is her first lead role and she's a winner already! I've been following her journey through a mutual friend and she is a brilliant actress. Let's also note she won for AMAZON, a digital network. This is just the beginning of the night and digital is already sweeping in.
Almost all of the nominees for for Best Actress in a TV series are from digital platforms (Netflix, Hulu, Amazon…). A win for Hulu as Elizabeth Moss just picked up the Best Actress award.
Did anyone know the President of the Hollywood Foreign Press Association was a woman?
Can someone tell me why Kerry Washington is so stunning?
Well deserved win for Sterling K. Brown for This Is Us. He is real and always gives great speeches. 
James Franco!!! NYU alumni are winning tonight, USC alumni are cashing the box office checks. 
YES, Allison Janney!!! She was phenomenal in I, Tonya. This is a woman who takes on every role and kills it. Her ability to portray complex characters is a true art. Great speech and so deserved.
Kirk Douglas and Catherine Zeta-Jones, what a beautiful moment these two shared as they presented Best Screenplay. Hollywood royalty, really.
The Marvelous Mrs. Maisel for Best TV series – Comedy or Musical, marks another win for Amazon! Hulu and Amazon so far are the big winners in the TV category tonight. 
We are seeing lots of diversity tonight and Aziz Ansari's win for Master of None adds to the colorful list. Next time, I hope he's prepared with a better speech. 
I love that Oprah is being honoredtonight. Reese's speech is a true tribute to how everyone feels about her. The world fell in love with Oprah because she showed us her heart and made us feel connected to her across the screen. Whilst I love her as a journalist, after this tribute, I think she's an equally wonderful actress. Unclear if there's anything this woman can't do. 
The Queen has spoken and she emphasized the importance of speaking your truth. In her words, it is the most powerful tool we all have – especially women. Oprah's speech tonight is what many of us needed to hear and I couldn't think of a better person to deliver it. 
Saoirse Ronan wins Best Actress in a Motion Picture – Musical or Comedy, which was very expected being that Lady Bird has been the film to watch this movie season. I saw LadyBird, I thought she was great, but the film wasn't as "life changing" as everyone made it seem. I would have liked to see Margot Robbie win for I, Tonya if we're being honest. 
See thoughts above for Lady Bird winning Best Motion Picture – Musical or Comedy. 
Angelina Jolie may not be nominated but she is shining at the Golden Globes tonight! After all these years, she's still so freaking stunning.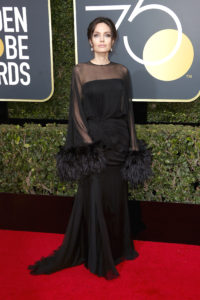 No win for Meryl?! To be fair, I didn't see the winning actress' film to properly argue this. Frances McDormand has been around for over 30 years and I'm sure she deserved it. 
It looks like Three Billboards Outside of Ebbing, Missouri is the film to watch before the Oscars. I definitely will be watching all of the films before the big night, but this one I feel got the least press and a substantial amount of wins. 
This has been a great night for diversity, but more specifically, women. Whilst the topic is heavy, it sure as hell beats talking about politics and Trump. People spoke on truth and the power of storytelling, which was a great reminder of what TV and film is really about. 
What a time to be alive. 
xo NM