For day 2 of the gratitude challenge I'm going to keep it light!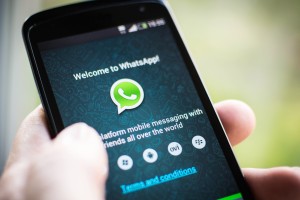 Today, I am grateful for Whatsapp!
No, I'm serious. Whatsapp has allowed me to talk to my loved ones far away every single second of the day. Okay, not every second because of the time change, but you get the picture.
Even though I want to throw my phone out the window at least once a day, I had to take a moment and realize how crazy it is that like 5 years ago we only had BBM or e-mail. Now I can talk to whoever I want regardless of what phone they have — all they need is Whatsapp! I mean, I even have a group chat with my aunts, uncles and cousins from all over the world going off all day. [highlight]I'm constantly connected no matter how many miles away I may be.[/highlight] It's a blessing and a curse, but regardless, I am grateful.
I kind of sound like a walking advertisement for the app, but fear not, no one has been paying me to rave about this or you would see a cute little #AD or #SP below.
What are you grateful for today? Join in!
xo [typography font="Cantarell" size="15″ size_format="px" color="#ff6666″]NM[/typography]