Hey guys! Thanks so much for the great response to my Mediterranean salad! I'm back and giving you another healthy recipe that I know you will make over and over again!
Yummy side dishes can be healthy and filling! This is a great side dish to go with any meal or even alone as a snack! You can cook this for family or for when you're entertaining guests; either way, it's always a hit.
Grilled Aubergine (Or Eggplant as many of you call it) & Red Onion
The amount you make will vary (my measurements are enough for 4 people). If you want to use more, make sure to spread the slices over 2 trays instead of 1.
This dish will take approx. 10-15 minutes to prepare and 25-30 minutes to cook…just enough time for you to cook your main course 😉
Ingredients:
2 x red onions

2 x aubergines (eggplant)
Garlic Infused Olive Oil (If you don't have that on-hand, feel free to use regular olive oil and use minced garlic and/or garlic powder instead)

Sea Salt

Black Pepper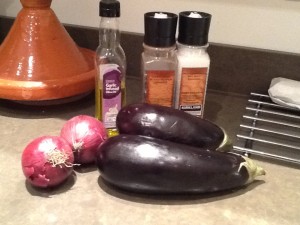 Instructions:
Step 1:
Chop tops off aubergines

Wash aubergines and cut in half

Pre-heat oven to 180 degrees
Step 2:
Score aubergines with a knife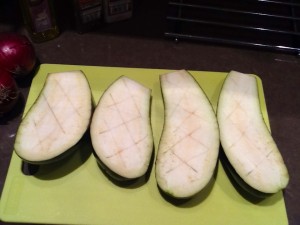 Step 3:
Cut aubergines into smaller slices
Step 4:
Pour garlic infused olive oil onto a tray 

As you add each slice, cover it in the oil sitting in the tray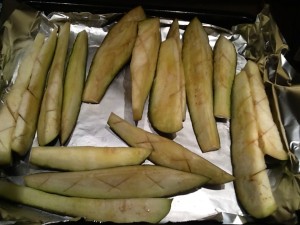 Step 5:
Ensure all pieces of aubergine are laying separately
Step 6:
Sprinkle this over the aubergine
Step 7:
Add salt and pepper by lightly grinding over the surface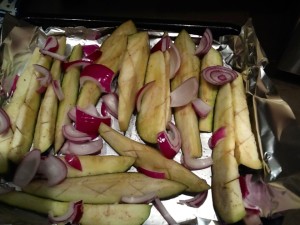 Step 8:
Cook for 25-30 mins on 180 degrees
Once done, serve alongside any dish and enjoy!!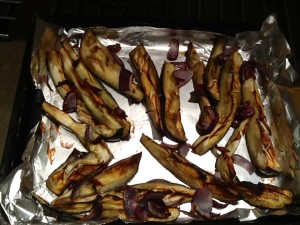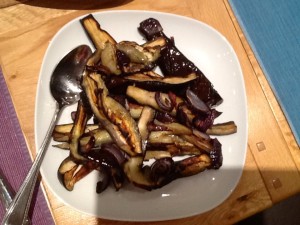 Follow me on Twitter: @Elysefx