Happy Friday y'all!
We've teamed up with Handstand to give you an exclusive discount!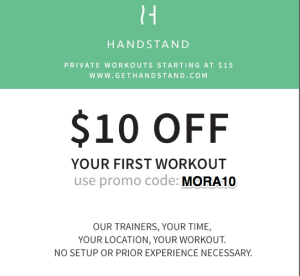 Need some refreshing on what Handstand App is? Click here to reread our special interview with them a few weeks ago.
The trainers come to you, any time you want! How awesome is that?! [highlight]It's literally an on-demand trainer at your service. [/highlight]
Keep in shape before the holidays and use the code to keep that pie off your thighs! I've already had a session and I'm obsessed. The trainer came to me and gave me a full-on private Pilates session. Doesn't get more [typography font="Cantarell" size="15″ size_format="px" color="#ff6666″]Bougie-On-A-Budget[/typography]  than that.
Let me know when you book your first session!
Download the iPhone link here.
xo [typography font="Cantarell" size="15″ size_format="px" color="#ff6666″]NM[/typography]