Hey there! Happy happy friday! I have been dying to release this Q&A for over a week now and to reveal my favorite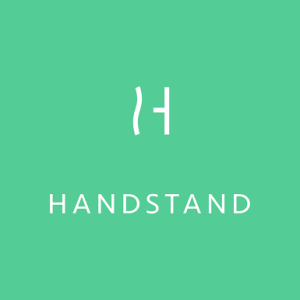 new program!
[typography font="Cantarell" size="15″ size_format="px" color="#ff6666″]Give Me Mora[/typography]  is the first to reveal Handstand, a new website & app that makes working out easy and affordable! So remember, you heard it here first before anywhere else.
Handstand is about to be your must-have app, and until the app launches this holiday season, it will be your must-visit website! The website is already in use and super successful.
I had a chance sit down with the founder of Handstand, Tiffany Hakimianpour — fellow USC alumn and childhood friend! Tiffany has been working on this app for quite some time now and I could not be more proud of her for pursuing her dreams.
For me, I love that there is something for absolutely everyone! So yes, this is [typography font="Cantarell" size="15″ size_format="px" color="#ff6666″]Bougie-On-A-Budget[/typography]  certified! Peep our interview below and get started!
1) Hi! Congrats on your new venture, Handstand! I've already signed up and started using it. Obsessed. For those that don't know about Handstand, what is it and how does it work?
Thank you, Nickie! I'm so happy you've started using it! We're using our website right now at www.HandstandApp.com and our app will be released for Android & iOS in just a couple of weeks!
[highlight]Handstand is like Uber for Personal Trainers and Fitness Experts.[/highlight] These trainers and experts come to you at any time and place when you're ready for one hour of exercise – may it be yoga, strength training, barre, dance fitness, boot camp, cardio or a dozen of other options. Handstand is taking away all the current issues we have with trying to get in shape today: sky high personal training costs, ongoing gym membership fees, driving in traffic, finding parking, long work hours, laziness, and boring old gym routines that get us nowhere. These experts come to you on-demand when you're ready for a sweat and no excuses. Sort, book, and pay on the site and no need for setting up or having any cash on hand.
2) How much does it cost?
There's an array of rates that start at $10/hr and with a growing list of class types, and locations. You can choose a 1-on-1 session or a small group session and even split the cost with your friends. I actually just had a group of friends over for a yoga class in my backyard and it was the best experience we ever had.
3) What made you come up with the idea to start this? It's so unique and different!
I wanted to try anything and everything that popped up into the fitness world—and I always did! As a student, it was easy. When I was hired after college, it all became so tough. I was constantly being forced to choose between working out or spending time with friends and family—and I was a 22 year old girl with no other responsibilities; I had no significant other, child, or bills to pay. I thought of my future and of being a mother and I knew there had to be a change—I had to make it easier to get or stay fit. Handstand started brewing then.
4) Favorite feature on Handstand?
I love how easy it is to use, but I love the sorting options right now. The rates, trainers, and class types are constantly being updated and added, so checking back has been my favorite thing to do these days. I've been doing yoga every other morning at home before work. I also really like rating my trainer after I'm done and having them rate and give me comments—that's really fun and nice to see!
5) I have a passion for health & fitness, so I feel like this app is really useful to me, but what about people who are just now getting into a healthy lifestyle? Is it for all different fitness levels?
This is my favorite question as it answers the meaning behind the name, Handstand.
I had always been into fitness and discovering new trends and routines. I was a varsity swimmer, a boot camp enthusiast, and an avid runner and then I gave yoga a shot when I was recovering from a bad ankle sprain. When I initially tried a yoga class in a gym years before, I remember feeling incompetent, frustrated, and discouraged. I wasn't like the others in the room, flexible or with very long limbs. But, I ventured into a small group yoga class recommended to me by a cousin of mine after hearing her rave about it for weeks. 10 minutes into the class, I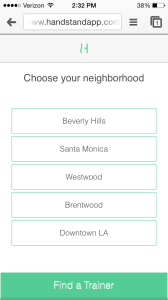 immediately understood why my cousin loved going there. The instructors were different. The one we had that day didn't make me feel like a beginner, or that I wasn't flexible enough, but rather she encouraged me to try different poses and adjusted me based on what she saw. She told me I was a great student, more flexible than I had thought, and that alone made me feel comfortable, capable, and motivated to keep going because her words were encouraging. I felt that I trusted her and by the end of the class, she was able to guide me into a handstand—something I NEVER thought I could do! I loved that trying something new as part of my fitness journey was rewarding in so many ways. So, I named this "Handstand", which is symbolic of the goals we can all accomplish when we have the right trainer, fitness expert, or instructor by our side. These are the kinds of people you'll find on Handstand and so if you are new to fitness- Handstand is the place to start!
6) When did it launch?
The website, www.HandstandApp.com, launched last week with great success and we have so many great and devoted users already (like you) who will be getting the first Handstand T-shirts/Tank tops and a discount coupon code! The app will be available in a couple of weeks and we can't wait for it—so many cool additions on it!
7) Anything we NEED to know about this amazing new website?
Use it to try something new—I really recommend doing something completely opposite of what you're used to! And download Handstand in your app store when it launches!
A special thanks for Tiffany for taking the time and giving us this special exclusive!
Just to note:
Handstand is not only for certified trainers, but also fitness experts — they are making it similar to apps like Lyft & Uber where you can turn something you are already doing like driving (but in this case, working out) into an additional source of income.
Why?

Because not everyone needs or wants a certified trainer, but a fitness expert that serves as a motivator, buddy, and new fitness friend to get you on track and committed!
The best part about all of this is they are planning to grow all over the world so that no matter where you are — on a lone business trip in San Francisco, or in New York, that you can stay on track with your fitness goals, meet new friends, and explore new things with someone new with Handstand.
Here is the application link as well for anyone interested!
What do you think? Will you try out Handstand?
xo [typography font="Cantarell" size="15″ size_format="px" color="#ff6666″]NM[/typography]
Follow Handstand: