It's Friday, Friday, Friday (yes, sing to the tune of Rebecca Black's song)…and that means the work week for most of us is OVER. Can I get a hallelujah or something? What a week.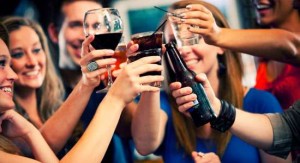 There's nothing quite like hitting up a good happy hour, especially now that it's spring time and the sun doesn't go down until 7! My USC girls and I have a ritual of hitting up a Friday afternoon happy hour once a month to catch up over drinks and anywhere we go, it's always poppin' with people in business attire looking to let loose. Our top favorite places in LA are Pink Taco and Salvage.
Here is a list of our favorite happy hour spots — these are all MORA approved:
1) Pink Taco : www.pinktaco.com
2) Salvage: www.SalvageLosAngeles.com
3) Sonoma Wine Garden: www.SonomaWineGardenSantaMonica.com
4) The Corner Door: www.TheCornerDoorLA.com
5) The Misfit: www.TheMisfitBar.com
6) Scarpetta: www.MontageBeverlyHills.com/Beverly-Hills-Restaurants.php 

7) Canal Club: www.canalclubvenice.com
Order generously without breaking the bank!
Enjoy your weekend…xo NM