A very special HAPPY NEW YEAR to all my fellow Persian kittens out there!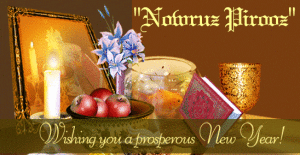 For those who are not Iranian, the new year is a 13 day long event filled with lots of parties, food, and family. We set up a special table called a "haf-sin" with certain symbols to represent things like a sweet new year, good luck, health, prosperity, etc. It's really a magical week long celebration that begins with jumping over fire and ends with a picnic where you throw sprouts into the water.
Not only is the "Norouz" (new year) a time of celebration, it is also the first day of Spring!
I hope that everyone has a wonderful week — whether you celebrate or not — and happy new year!!
xo NM