Are you a foodie?
You know a burger fills the gap and when it's homemade it's got a whole lot of comfort about it!
Here's my recipe…enjoy! xo Elyse Freeman
Ingredients:
Mince meat (enough to make as many burgers as you need)
* my packs are half a kilo each and I use 2 to make approx. 5-6 burgers – of course this will all depend on the size of the burgers
x 1 Egg
Matzo Meal
Tomato Purée
Minced Garlic
HP Sauce
Sea Salt
Black Pepper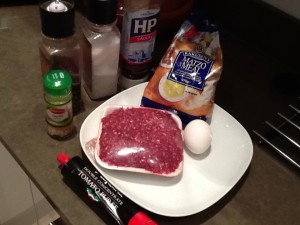 Instructions:
Step 1:
Add seasoning to mince meat
There are no definite measurements for the minced garlic, tomato purée and HP sauce – it should be seasoned to taste and will depend on how much meat you are working with
As you can see from the picture it is only going to be 1-2 squeezes of the purée and sauce, as well as a few shakes of the minced garlic
Step 3:
Add matzo meal to mixture
This will ensure the mixture is firm
*add a bit at a time as you mix it in instead of adding it all at once to ensure it is spread evenly
Step 4:
Step 5:
Place under a medium pre heated grill and wait until they are brown
Step 6:
A burger bun is, of course, optional but to keep it low carb I prefer to add vegetables of my choice instead!