Awards season officially kicks off with the Golden Globes, and by now, you should know how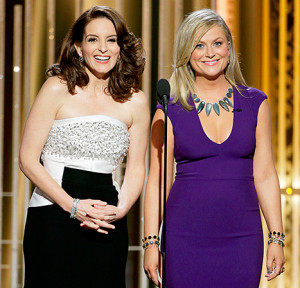 freaking stoked I am for the beginning of the most magical time of the year!
I have so many feelings about this year's awards so let's get right into it, starting with the hosts. [highlight]Tina Fey and Amy Poehler = Hollywood's dynamic duo.[/highlight] Can they just host everything? I wish they were on longer throughout the night — where were they? I can't get enough of these two.
I have to say, I think because last year's awards season was snoozefest, USA, the Hollywood Foreign Press Association knew they had to have some crazy upsets and shake ups. While the entire population was shocked to see Gina Rodriguez win for best actress for 'Jane The Virgin', I was not. I've been saying it for weeks: Gina Rodriguez has star power. And then The Hollywood Reporter named her 'the next big thing.' I mean, hello? Wasn't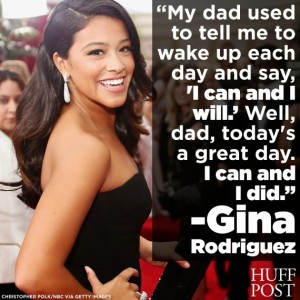 that obvious? Just watch an episode and it's no surprise as to why she is the leading lady of a CW show. Do your research — her story is inspirational, and her dedication to the Latina community is admirable. As a young woman who is a minority in Hollywood, I really respect every move Rodriguez has made for her career in order to not paint her community in a bad light. And her acceptance speech! Can I get a freaking AMEN or what?! My absolute favorite speech of the night and hands down my favorite winner.
One more upset that I am not okay with: Viola Davis not winning for best actress in a drama series in 'How To Get Away With Murder.' Excuse me? Davis is a queen on the silver screen, and has slayed in every single episode. Just watch the episode where she takes off her wig and try to tell me you didn't get the chills while simultaneously falling to your knees to praise her acting skills. I dare you.
The show started to drag and get boring — my guess is because they didn't have the hosts intervene and the producers were strapped for time. Or maybe it's because Birdman was winning everything and I was over it.
George Clooney won the lifetime achievement award and his wife, Amal, looked like she wanted to shoot her brains out. She could not have looked less pleased to be in a room with a bunch of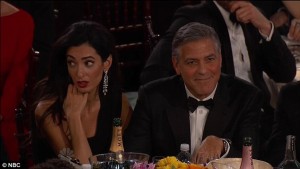 actors. What was up with that? Even when Clooney was praising her, she just looked uncomfortable and ready to get the fuck home and read about politics. Not about that life, sorry.
All in all, it was a pretty okay show. We all know the real juice is at those after parties though. I would write about one icon's famous Oscar after party last year, but I had to sign an NDA. Let's just say these celebs know how to party until 6am.
I'm curious to see who wins the SAG Awards, and how many of last night's winners will win the Oscar. What are your predictions?
For a complete list of winners, click here.
Let's get into my best and worst dressed, because you know that's my favorite part!
[typography font="Cantarell" size="20″ size_format="px" color="#ff6666″]Best dressed:[/typography]
Guiliana Rancic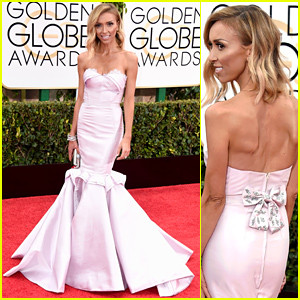 For me, Giuliana is always a hit or miss, but this time, the woman nailed it! Great color and great style on her. Think she needs to hold back on the spray tan and pale lipstick a bit for this look, but she definitely still managed to upstage many of the stars.
Kate Hudson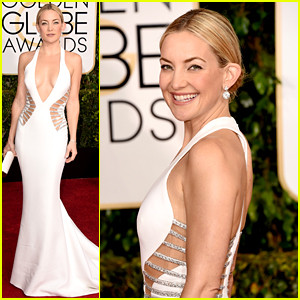 Does she ever look anything less than amazing? Look at that body! The dress was sexy and her pulled back hair made it sophisticated and classy.
Jennifer Lopez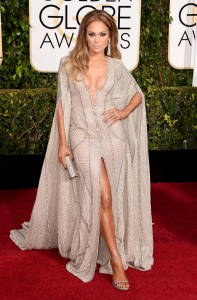 Because, duh. Just look at this. Look at her. Is she real?
Chrissy Teigen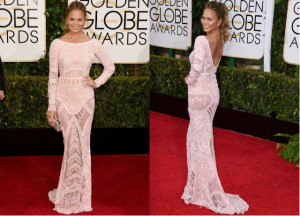 Done, done and done. This dress is absolutely stunning against her skin and, once again, I love that she put her hair up so the dress could steal the show.
Gina Rodriguez – [typography font="Cantarell" size="15″ size_format="px" color="#ff6666″]WINNER[/typography]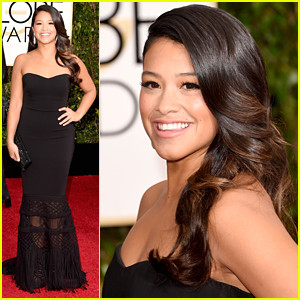 Safe to say Gina Rodriguez was my overall win of the night. Wearing Badgley Mischka, she was the envy of every girl at the ball. This is a dress that is so simple yet so major. And the best part is that (if you can afford it), it's suitable for us normal girls. Would you not wear this to a black tie wedding? I would. I could go on for days about why I am so in love with this look, but I'll stop here and leave it as my best dressed winner.
[typography font="Cantarell" size="20″ size_format="px" color="#ff6666″]Worst Dressed:[/typography]
Keira Knightley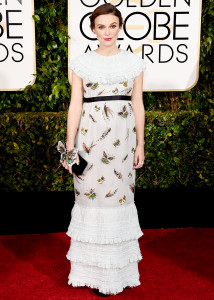 It took 30 people to make this Chanel dress and not one had the common sense to say 'this is ugly'?
Dakota Johnson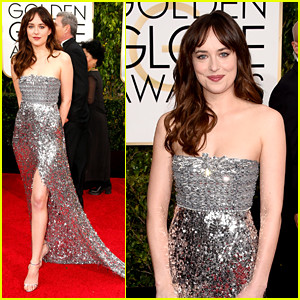 Another fail for Chanel. I feel like I could have picked up a version of this at ROSS. What is this? I'm going blind.
That's a wrap on the GGs. Thoughts? Comments? Keep it real.
xo [typography font="Cantarell" size="15″ size_format="px" color="#ff6666″]NM[/typography]
*Photo source: Just Jared Jr.