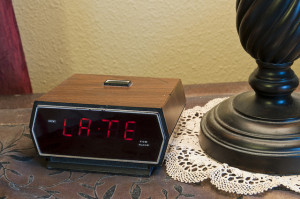 How Did It Get to Be 'OK' to Be Late?
Being late is my biggest pet peeve and disrespecting my time is the greatest "FUCK YOU" a person can give to me. What makes your time more important than mine — and visa versa?
As I've gotten older, I've come to see the sense of urgency with people is really lacking. And boyyy, am I not a fan of this. I can't tell you how many times I've had plans to go pick people up to go do something and they aren't ready or even close to being ready. Telling me you are "so sorry" doesn't give me back the 20+ minutes I could have used to go do something productive instead of sitting and waiting for you. In fact, the other week, it was one of my best friend's birthdays. I was out covering the private Sara Bareilles concert and said I would meet them up for drinks by 10:30pm. So, I left the concert early just to be on time and not have anyone wait for me. And what happens? I'm waiting for a friend who thought spending an extra 20 minutes with her boyfriend was more valuable than my time or my work. I could have sat and covered more of the concert during that time, I wouldn't have felt so rushed and I would have been able to pick something up and eat it in the car.  Yet, instead, I got to sit in my car for almost 30 minutes waiting for her to get ready…
What does this tell me? That when someone is late by more than 5 or 10 minutes, they really don't respect or value my time. That whatever they are doing is more important than what I have to do. And that is not okay. I don't care if we have been friends forever, don't be late. It's that simple. There's only 24 hours in a day and 7 days in a week. Ain't nobody got tiiiiime for tardiness hunny.