Now serving (playing): Lemonade!
By now you all know the Queen of the world AKA Beyonce dropped her visual album, Lemonade, this past Saturday night – and if you didn't know, please remove yourself from the rock you've been living under. 
Everyone is fuh-reaking out that Bey may or may not have aired her dirty laundry for the entire world. Did Jay really cheat? Were the rumors about Rachel Roy (the clothing designer, not Rachel Ray the chef) being Jay's side piece true? 
But above all, where did this side of Beyonce come from?!
I don't need to sit here and rehash what every blog is saying about the release of Lemonade, how Jay-Z is involved and what really happened. You can click here, here and here for that. 
By serving us Lemonade, Beyonce just became the most relatable she's ever been.
Why?
Several reasons. The main being that the usually oh-so-private Bey just gave us a sneak peek and front row view into her personal life. And, because for the first time, she opened her wounds for us and expressed the highs and lows of marriage – more specifically, her marriage and her parents' marriage. She showed us that even a superstar like herself goes through many of the same trials and tribulations us "normal folk" do.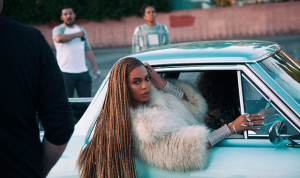 Her new album, which I call an anthem to ALL women – not just powerful black women, takes the listener through all stages of a scorned lover. Proving that, at the end of the day, Beyonce is just like you and I. Well, minus the whole superstar thing. I was about to call her immortal but after the release of Lemonade, it's safe to say she really is mortal.
SO. Whether the rumors are true and she was a victim to her husband's infidelity, for an hour Beyonce made us feel like she's been there and she gets us. And to me, that makes her superhuman. 
Obviously Jay-Z can't be trippin' that much because she's streaming her album solely on Tidal (unless you bought her album on iTunes). My guess is that Jay will come out with a new album discussing his "side" of this whole debacle. 
This entire thing just goes to show that a man could have one hell of a woman and it still wouldn't be enough. Definitely makes me feel way better about my love life (LOL)! But who knows, maybe this was all a publicity stunt and all is well with the Carters.
What do YOU think of the new Beyonce we have gotten to experience in Lemonade? Sound off below!