I just landed in London (my favorite city on the planet)! Wow, that was a LONG trip. 
While packing is the most important part of getting ready for your trip, what's in your travel bag is just as important. I call these my 24-7 "travel essentials." 
My travel bag carries things I need for the plane and for my day-to-day during traveling. Your travel bag should always have a zipper (so loose hands don't creep in). I bring my backpack that I customized with GUESS and it holds EVERYTHING! There's a zipper inside as well for things like cash or my passport, and another zipper compartment on the outside. I obviously stash my computer + charger, wallet, passport, and phone charger in my bag as well. 
Here's what's in my travel bag and why:
Excuse the lighting situation in these photos – we had some issues at my house with lights and hotel room lighting is awful!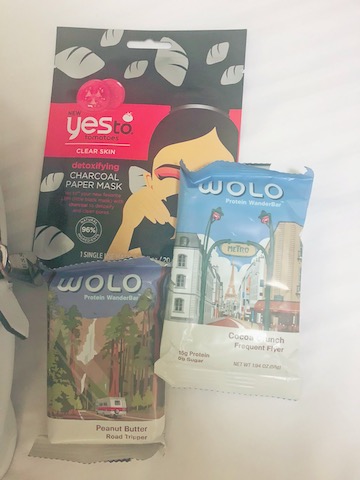 1) WOLO Snacks – I LOVE these protein bars. WOLO was made for the frequent traveler. It's packed with protein and only 5 grams of natural sugar. I have 2 in my travel bag at all times (Cocoa Crunch & Peanut Butter) and I put a bunch in my suitcase to restock during my trips. WOLO tastes really good and is gluten-free so you don't need to worry about bloating from eating these. I usually munch on a bar throughout the day if I'm running around and don't want to sit for a meal. || Instagram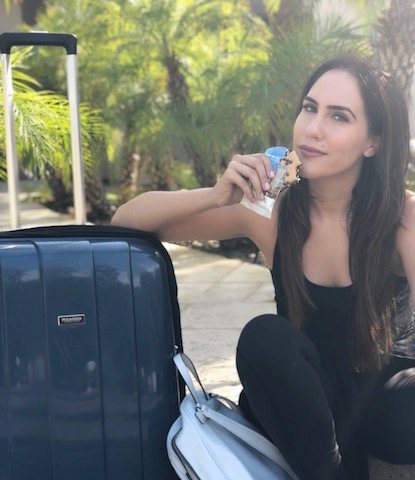 2) YES To Tomatoes Charcoal Mask – if you think I'm not one of those crazy girls that puts on a face mask about 30-40 minutes before landing, you need to think again! I buy 2 for every trip – one for the plane and one for mid-trip. There's so much gunk your face can accumulate during a flight, especially long ones, and I always like to get my face right before hopping off the plane. || Instagram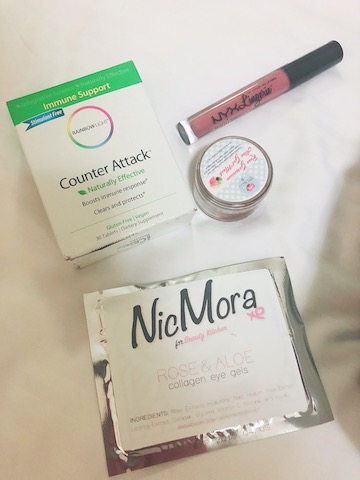 3) Counter Attack – My immune system SUCKS so I can't go anywhere without this. Counter attack is basically like a vitamin containing everything from zinc to oregano oil. I take one before I get on the plane, as soon as I get off, and at least 1 per day while I'm away. I used to take a box of Emergen-C until I realized it was full of sugar. 
4) Nic Mora for Beauty Kitchen Eye Gels – Yes, I actually travel with my own eye gels, they are THAT good! Depending on the flight, if I wake up early enough, I'll do the face mask first and then pop on the eye gels for 20 minutes during landing. If not, I put them on in the cab! It's so important to feel fresh wherever you land. || Instagram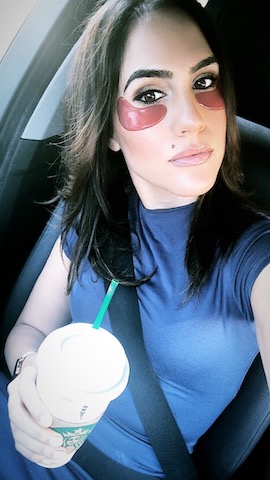 5) NYX Lingerie Liquid Lipstick – One of my favorite lipsticks! I have this on deck at all times in case I need a little sprucing. It lasts for hours and gives you an instant feel-good boost. || Instagram
6) Beauty Kitchen Rose Geranium Gel Mask – I keep this in my travel bag whenever I feel like my skin needs a quick tightening. I actually rubbed this all over my face while I was waiting for 2 hours in customs! My skin was so dry and gross and having this handy really helped me feel a little less haggard. || Instagram
There you have it! My easy, simple, but very necessary travel bag essentials! 
xo NM