Hey guys! We've got a special treat for ya this week! Our correspondent in Toronto, Canada attended the Keith Urban concert and reviewed it for all of ya'll. Please welcome Mona and enjoy her as much as I do. She's got the best taste in music and will be covering a lot of happenings in the Toronto area! xo NM
Hi Give Me Mora readers!
I am so excited that this is my first post! Can't wait to get to know all of you and do many more 🙂
For so long now, I have been kicking myself for not going to see Keith Urban every time he had a concert in Toronto.  I chalked it up to not having anyone to go with…which was true.  I knew what I was missing out on.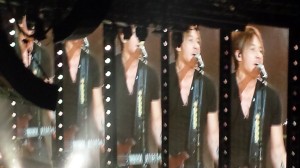 I mean sure, I have a bad case of FOMO but I was totally right — Keith Urban is something else live.  Apart from being extremely talented, he is one of the nicest human beings I have encountered. If you could call it an actual encounter?
Without anyone really knowing, he nonchalantly strides onto the stage, bashfully to the microphone and started singing.  Just him and his guitar.  Halfway through his opening song, Long Hot Summer, his bandmates came on, signalling the curtain to drop and the creative live screen appeared.  Is that not one of the most genius things you've ever seen? I loved it.
Being that it was his last stop on his Canadian Tour, he made sure to let us know it was going to be a long night.  2 and a half hours of amazing live music and talent that doesn't come around often anymore.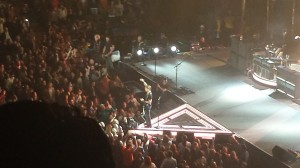 He mostly played hits from his newest album, Fuse, and looking around I realized the packed house sang along to every word.  Yes, myself included. What I loved about him was that he didn't shorten any of his old hits to make room for his new ones.  He was well aware that half the place was packed with die hard fans, adoring him since his Someone Like You days.  One group of fans in particular got extra special treatment.  Definitely, one of the best moments of the night, Urban brought the group of fans on stage and serenaded them with Making Memories of Us.
I took a second and thought, nine albums later, this guy still looked like he was going very strong.  And you know what?  He should be.  No ounce of ego could be seen.  Not only did he bring out his two opening acts, Brett Eldredge and Little Big Town to sing several songs with him, he took 15 minutes just to thank everyone who had helped him get through this tour.  That included stage crew and of course, us, the people who he said made him who he was.  What an amazing guy. It's no wonder he's been around for so long.
He made sure to also cover the stadium as much as he could, by playing on a stage created for him in the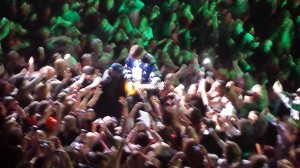 back, stopping to take pictures with fans along the way.  He played amongst the crowd as well, and I was pretty lucky to have been where I was sitting because he ended up being two feet away from me.  Let's just say I had a moment.  Well, anyone who was within touching distance from him had a moment.  And, I can't forget the girl he randomly selected to give his autographed guitar to.  She had one hell of a moment to share with the rest of us.
Finally, during his encore he played his widely known hit Tonight I Wanna Cry, solo on his piano wearing the most awesome jersey, yes the Toronto Maple Leafs jersey.  After a few songs, he bowed down with his bandmates and spent another 20 minutes signing and taking pictures with his fans.  That alone speaks volumes of his character and for that I gained even more respect than I had before for the artist he was last night.
If you get a chance to see Keith, I would definitely do so. Even if it means splurging a little. It's worth every single penny!
 xoxo Mona
You can follow Mona on Twitter & Instagram: @MonaGabay