When it comes to traveling, I have no shame in saying that I'm a hotel snob. I can be super easy going, as long as it's clean and the service is good. BUT! I also think it's ridiculous to drop $500/night for a room you're not even doing anything in besides sleeping. No one in Europe actually stays in their hotel room. If you were in Mexico, or somewhere tropical, where you go in and out of your room often, that's a difference. Spend the $500+ on occasions that the hotel will really be of use.
Normally, I stay with friends in Europe because it's cost efficient (more money for shopping), and then doing a few nights in a hotel for privacy versus 10-14 days straight in a hotel, which can run you $2,000+. This time around, I went the Airbnb + 2 nights in a hotel route.
I went to London during high season (June & July) so everything was exponentially more expensive.
I booked two nights at The Grange Holborn. Having stayed at The Grange Tower Bridge, I was expecting the same kind of experience and service (AMAZING). For over $550 total for a two night stay (that was a discounted rate FYI), you best believe I was expecting something a little more than decent.
The Grange Holborn was NOT the move. I felt like I was in London circa 1900. It also smelled like Indian food, a sure sign of bad air ventilation. They first put me in a room that was all the way at the end of the hall – like half a mile away from the elevator. The room was facing a brick wall. I can only imagine this is what prison feels like.
Note to hotels: do not put a single girl in a room far away from the elevator – it's not safe. Not to mention, we wear high heels and are not trying to walk 10 minutes to get to our room from the lift.
After switching my room (which was not that much better, to be honest), I finally settled in. Until 2AM where there was BANGING on my ceiling and then construction going hard at 7AM. This is the last thing anyone wants when they have just arrived on vacation and are jet lagged. I voiced my complaints to the hotel and they did nothing.
Is it just the hotel or does London have horrible customer service?
The next night there was less noise, but the construction definitely went full throttle. I could not wait to GTFO of there.
I tried to talk to the hotel about my horrible experience, and even that was a fail. I've never experienced customer like this before. The Grange Holborn has a horrid General Manager, FYI. He wouldn't give me the time of day and had his "minion" report back to me. They didn't foot anything off my bill, but rather said "we'll take care of you next time." UHM. There will never ever be a next time! Am I stupid?
Awful. Just awful.
Finally, it was time to check into my Airbnb. After searching for what seemed like ages before I left, I found the perfect room with the most perfect host.
Glo, my Airbnb host, has the cutest flat in Kensington on the same street as Freddie Mercury's apartment. I knew from messaging with her that we would get along perfectly, and once we met in person, she immediately felt like family. 
My room was HUGE (bigger than my own room back home in LA), had en suite full bathroom, and had a lock for when I wanted to leave the flat. There was an unlimited amount of tea, sweets, coffee, you name it, in the kitchen as well.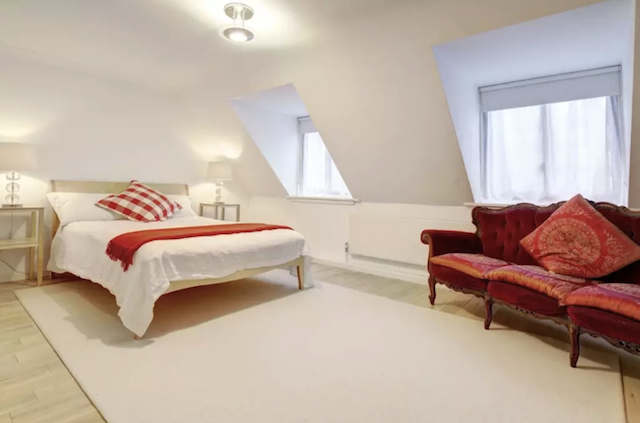 I looked forward to coming home everyday and chatting with Glo over a cup of tea. The other house guests were also so friendly and provided a warm atmosphere. 
My Airbnb stay was 8 nights and I literally have no complaints. It was perfect. I normally stay more east in the Islington area, but staying in Kensington was such a nice change. Not to mention, there was a Nando's on my way home everyday! 
When it was time to leave, Glo was kind of nice to drive me to the tube station that would take me directly to the airport. I really lucked out with Glo and my Airbnb situation.
Overall, staying at Glo's Airbnb was way more cost efficient, comfortable, pleasant, clean and everything else. I will never be staying at The Grange Holborn again unless they do a full remodel and change their management. 
xo NM