Valentine's Day is tomorrow and love is in the aiiiiir but first, Galentine's Day! Single or taken, the relationship I have with my girls has always been and will always be a priority. It's funny because the older I've gotten, the better my relationships have become. I'm not sure if that's because I cut the bad seeds and made room for new ones or I've just grown a lot as a person, but I am so thankful for my best girls. And with that, I wanted to honor them today as my GALentine's!
To my ladies AKA my Galentine's,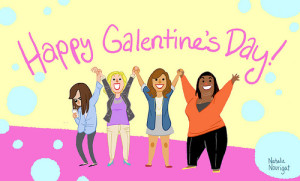 It has been a crazy ride, hasn't it? Through all of the ups and downs, we still managed to stick by each other. You've wiped away all my tears and encouraged me to get out of bed on days I wasn't sure I could. You held my hand and walked beside me as I entered and closed certain chapters in my life. And you never ever complained about hearing the same vent 100x. I'm so incredibly thankful for you, for your support, for your unconditional love, for all of the cuddles, for everything. I can't say I would be the person I am today without you.
I'm always confused when a girl can't be a girl's girl because my ladies have made it SO easy. I don't have a sister but I consider my besties the sisters I never had. Each woman teaches me and inspires me on the daily. We empower one another and when the going gets tough, we get going. Together. 
Thank you for always getting fries with me even when you're on a diet or not hungry, laughing with me (or at me), crying with me, putting up with my crazy, and being a huge part of my family. We've seen a lot of breakups, heartbreak, and loss through the years, but nothing has been more comforting than knowing the girls will be there to help you get through it. And, on the other end, we've seen a lot of love blossom, monumental moments in our careers, exciting times, and it's been so special seeing us share in each other's happiness. Through thick and thin. Always, always. 
To the best Galentine's I could ever ask for: I love you. With all my heart.
xo NM