Hey GMM readers! Eating healthy can be expensive and quite a drag honestly, but this recipe makes it so much easier to stay on track & not spend all of your  money!
Elyse is a special part of the Give Me Mora team, so please be sure to give her a warm welcome! I met her through a mutual friend while I was visiting London and working on the beginnings of this site. Since then she has become a dear friend of mine and I absolutely love her simple recipes and know you will too. Keep checking back for more in the weeks to come! Here it is, Elyse's yummy, low-carb Mediterranean Salad:
Mediterranean Salad
Add a refreshing, tasty and healthy salad to your brunch, lunch or dinner!
This recipe is simple, quick & goes with anything.
The quantity will really depend on how many people you are making for. I would always advise making too much rather than not enough; the beauty of this salad is that it will stay fresh for a few days. You can adjust the ingredients according to preference — some like it with more cucumbers or more tomatoes, so feel free to play around!
The ingredients are as follows: (this will be enough for 4-5 medium sized portions)
1 x pack of baby plum tomatoes (approx. 35)
1 x table spoon of olive oil
Sprinkles of sea salt (approx. 5-8 grinds)
Sprinkles of black pepper (approx. 3-4 grinds)
Instructions 
Chop all vegetables finely
*remember to remove seeds from peppers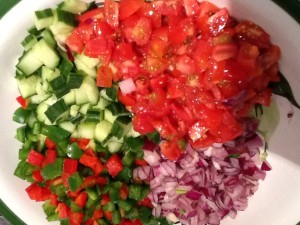 Mix all vegetables together in the bowl
Mix again but this time adding the olive oil
Don't add too much or the veg will drown
(use maximum of 1 tablespoon in total)
Mix again, this time adding salt (mix between each few grinds of salt)
Sprinkle some black pepper, again mixing between grinds (leave the last grind on the surface)
Your Mediterranean Salad is now ready to serve! All you have to do is add some fresh lemon! Enjoy!
Be sure to follow Elyse on Twitter: @Elysefx