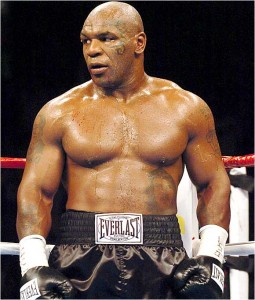 When we think of Mike Tyson, we often just label him as that "crazy heavy-weight champion" and move on with our lives. We never really take the time to acknowledge that he, like the rest of us, is an actual human being going through difficult battles. 
As we bring in the new year, everyone is talking about their resolutions, their goals, hopes & dreams. Tyson both clearly & eloquently writes on the problem with this. You see, it's not enough to merely make resolutions — people fall off the bandwagon and give those up far too easily. For Tyson, he can't afford to mess up. He's an addict. And everyday is a struggle. When we hold ourselves to do better we, in turn, become better.
[quote style="boxed"]In order to kick it, I had to replace the cravings for drugs or alcohol with a craving to be a better person.[/quote]
Check out his piece in the New York Times here. It is a must read.