Hey Readers!
Hope you had a good week and a romantic Valentine's Day! This week's recipe is an extra dish that goes well with Sushi. It's healthy, low fat & absolutely delicious!
* you will notice I have also made some smaller aubergines too – this recipe could also be a lovely starter to make 
Ingredients:
x 2 aubergines (use however many you need…it is usually half an aubergine per person)
x 4 table spoons of Miso Paste
x 1 table spoon of Soy Sauce
x 2 tea spoons of sugar
Spring Onions (optional)
Sunflower Oil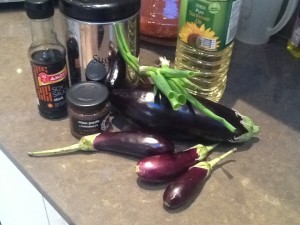 Instructions:
Whilst preparing, pre-heat the oven at 180 degrees celsius or 356 fahrenheit 
Add the miso paste, soy sauce and sugar to a bowl and then mix it all together until smooth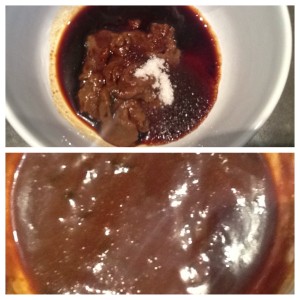 Step 2:
Add oil to pan and heat it (medium heat)
Step 3:
Step 4:
Once this is done lay the aubergines on the oven tray (face up) and cover in the miso paste
Sprinkle the spring onion around the aubergine
Ensure the spring onion has a drop of oil on so it doesn't burn.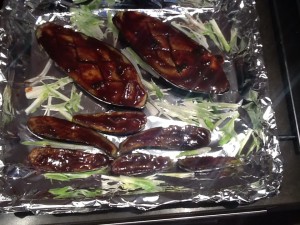 Step 6:
Put in oven and cook for 30-40mins
After 10mins. you can lower the temp. to 160 degrees celsius or 320 fahrenheit (depending on the strength of your oven)
* the smaller aubergines will not take as long to cook; you should allow them to cook for approx. 20 mins