Validation is something that's been at the forefront of the conversations around me. How much affirmation or validation from our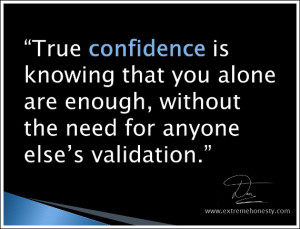 peers do we need? How much do we have to give in order for someone to feel good?
Personally, I need more validation than a freaking parking ticket you get at the mall when you go to the movies. 
While we can easily validate ourselves and recite our daily affirmations, I think we, as people, need to be fed. Our egos need it; it doesn't matter if you're Beyonce or a random person down the street working at a store. Humans at their core are more alike than we think. 
Generally speaking, when we date, we want to be affirmed that our partner is into us; when we work, we want our talents and efforts noticed. 
Now, more than ever, it's easier to get a little boost thanks to our little friend called social media. Need some love? Post a selfie on Instagram. In a recent study done by InStyle, girls are feeling more confident than they have in years thanks to Instagram and Facebook. I could lie and say that I don't care if no one likes my photo or comments on it, but in reality, I do. I think that most of us do. 
Here's what I've learned in the past year: 
[highlight]The more you become one with who you are, as well as comfortable in your own skin, the less validating you need. [/highlight]The more okay you are with yourself, the less approval you'll need from others. And that is only attainable by doing work on yourself and finding what feeds you internally. So whether it's taking a class that makes you feel good about yourself, being surrounded by people that bring you up, or taking up a new hobby, it's important to take the time to invest in YOU. Because if you don't invest in yourself, who will?
Chime in. I want to read your thoughts!
xo [typography font="Cantarell" size="16″ size_format="px" color="#ff6666″]NM[/typography]