I've seen a sentence or two about MTV's new show, Faking It, which surrounds two unpopular girls who fake being a lesbian couple and become popular because of it.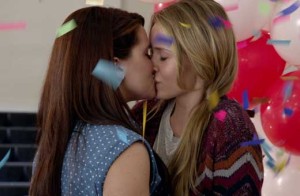 Interesting right? I'm intrigued.
Gregg Sulkin, whom I interviewed a few years ago and is best known for his roles on Pretty Little Liars and Wizards of Waverly Place, had been tweeting about his new pilot for a few weeks now, but I had no idea it was THIS pilot. It's a risky move for MTV, but I think the story line is fascinating enough to at least play the season out fully.
I'm curious to know how my readers feel about a show like this? I've seen a lot of responses that watching gay couples on TV still makes people uncomfortable and that many viewers are just "not there yet." I personally think this is the way of the future and it's about time someone takes this risk. It could possibly be groundbreaking for future sitcoms.
Here is the article I found on Buzzfeed — the trailer is also included.
And here are the 5 things you need to know about the series according to The Hollywood Reporter.
We want your comments and opinions on this!
xo NM