Today is a great day for all of us coffee lovers!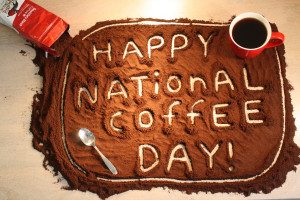 In honor of this cute little holiday, some of your favorite coffee places may be having a deal:
Coffee Bean – Half off iced coffee, flavored coffee or an iced Americano.
Dunkin' Donuts –  Free medium cup of Dark Roast coffee – hot or iced. There is a limit of one per person.
Krispy Kreme – Free 12oz cup of coffee and a free regular glazed donut. For a dollar extra you can upgrade your coffee to a latte!
Tim Horton's – Any size regular roast for $1.
Seattle's Best – $2 off your purchase.
Which one will you go to? So many options!
xo GMM staff