I absolutely love radio, so when I was asked to come on Dash Radio's new show, The Hollywood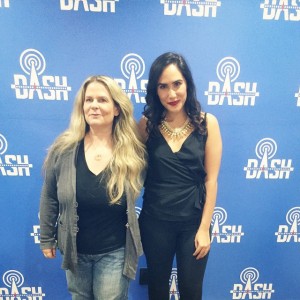 Fixer, I just couldn't say no!
The Hollywood Fixer is hosted by the legend herself, Wendy Feldman. Don't know who Feldman is? [highlight]She's pretty much the real life Olivia Pope & Ray Donavan[/highlight] – she is a crisis manager and legal coach who has recently been in the press for her work with Real Housewife, Teresa Giudice. I'm sure you've seen her all over your TV screens on shows like The Insider, E! News, Entertainment Tonight, The Today Show, and Wendy Williams, just to name a few.
Wendy Feldman is the ultimate insider and she is absolutely amazing. It's refreshing to see someone genuinely care about their clients and their families. I had a great time on her show and loved visiting the Dash Radio studio! I definitely loved outing a certain Shahs of Sunset character, talking about the millenial generation, TV, and of course, listening to some crime talk.
Thanks to those who called in and started chatting with us! And to the Twitter peeps hating on The Royals? Goodbye. There is no shame in my royal game, hunny.
Click here to listen to the show!
xo [typography font="Cantarell" size="15″ size_format="px" color="#ff6666″]NM[/typography]