I'm convinced brunch isn't really a "thing" in Los Angeles the way it is in New York. But really, who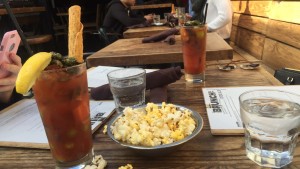 doesn't love brunch?
Since I love a good dining experience, I don't think it's fair to keep this kind of valuable info away from y'all! I recently made my way over to Open Air Kitchen + Bar in West Hollywood to check out the new restaurant with supposedly the best DIY bloody Mary bar.
The music is a little too loud to have any real kind of conversation, so if you're trying to have a deep talk, I wouldn't suggest it. BUT, if you want to sip on bloody Mary's, nibble at popcorn and enjoy some great food…this is a place you need to check out.
What we ordered:
Brussel Sprouts

Truffle Fries

Shrimp Tacos

Churro Waffle

DIY Bloody Mary

Coffee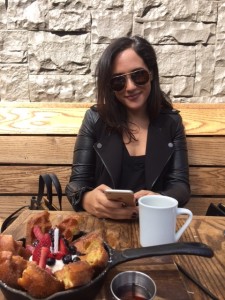 Each and everything was delicious. No complaints here. The churro waffle was everything! We were so full we couldn't even finish it, but you best believe we tried. Portions were generous and you could probably make an entire meal out of the Bloody Mary bar — there were taquitos, crispy kale, bacon, peppers, you name it!
Open Air Kitchen + Bar is definitely [typography font="Cantarell" size="15″ size_format="px" color="#ff6666″]#BougieOnABudget[/typography]  certified. Get a couple of appetizers and share is what we recommend to keep the price down while experiencing different types of yummy food. 
Until next brunch…
xo [typography font="Cantarell" size="15″ size_format="px" color="#ff6666″]NM[/typography]