When a hot, new restaurant opens in LA everyone freaks out and tries to see what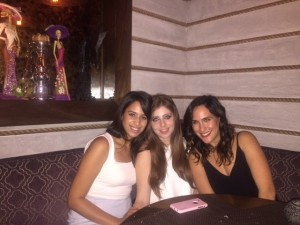 the fuss is all about. I have been dying to try hot spot Toca Madera in West Hollywood for weeks now, and I can finally say I got to experience what the frenzy has been about.
Toca Madera is pretty packed all days of the week, but if you don't like waiting 15-30 minutes for your reserved table, I suggest you try and not go on a Tuesday night. We made our way there for taco tuesday (note: they don't have any taco specials for Tuesdays) and it was so crowded that they made us wait 20 minutes to be seated. Mind you, we had a reservation 10 days prior to coming!
Dress code: Trendy
Vibe: The relaxed, cool, and modern set-up provides a fun atmosphere
Was the wait worth it? Absolutely. We ended up having a 3 hour dinner!
Here is what we ordered and I recommend ALL of it! Not one thing was bad, believe it or not. This was for 3 girls, but we ordered a little too much so it would be perfect for a group of 4-5 girls or a group of 2-3 men. If you are a vegan or vegetarian, this place is perfect for you with all of the great options the menu provides.
*Note: the restaurant serves the most amazing flour tortillas with honey butter, make sure you try it!
– Guacamole served with plantains and tortilla chips
– Achiote Chicken Chopped Salad
– 1 order of the mushroom and sweet corn tacos
– 1 order of the grilled cilantro chicken tacos
– 1 order of the short rib taquitos
– 1 churro ice cream sandwich
– 6 Amante Picantes (drinks) – be careful, the drinks are STRONG!
[highlight]I have to say, Toca Madera really lived up to all the hype. [/highlight]The service was excellent, the crowd was great, and the food was even better.
Unfortunately, their regular menu is not [typography font="Cantarell" size="16″ size_format="px" color="#ff6666″]Bougie-On-A-Budget[/typography]  certified, but if you're looking to get the experience for a little cheaper, I would definitely check out their happy hour menu! Shout out to my two awesome friends for taking me here for a belated birthday celebration – it was divine.

Toca Madera's website can be found here