A ton of you have been messaging me asking me about what I do to work out and ways you can #LoveYourBodyMORA so I've teamed up with Body Love Athletica to share a few of my favorite 30 minute workouts! 
As a girl who is constantly on-the-go, it's hard to always fit in an hour but I do try to get in 30 minutes. Everyone can do 30 minutes at least 3x a week. While I love scheduling hour-long sessions with my mom and our trainer Jesse (full disclosure: sometimes I'm so tired I sleep instead while they crush it!), it's not every day and I have to get my bum moving. Plus, I can't always afford a trainer and neither can everyone else! 
No gym membership? No problem! Some of these workouts can be done outdoors, in your home, in your hotel room, etc. I'm a true Los Angeles girl, so I defos try to take advantage of being outside. All that matters is that you get in there, do the workouts, and keep your body healthy 🙂
Bikini Body Guide by Kayla Itsines
This is my favorite one on the list for so many reasons. The first one being that you can do it anywhere and the workouts are only 30 minutes. #BBG has grown a huge following, and after trying it myself, I can see why. Kayla Itsines created a PDF you can download to your phone and also an app that guides you like a personal trainer. You see results within just 4 weeks and your body is guaranteed to be sore after every single workout! I like to do BBG in a gym but I have definitely done it outside on a grassy area or at home.
Stairs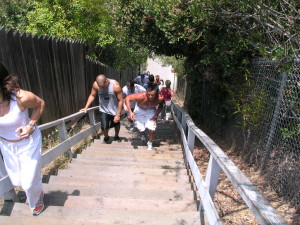 Do you love being outdoors? Hit the stairs. Living in LA, I love doing the Santa Monica stairs on the weekend since it's so close to me but we also have the Culver City stairs which I hear are amazing! You can also hit the track at your local high school and run the stadium stairs. I like to do 4-6 rounds depending on time and mix in arms and abs. Tip: to tone that booty more, climb the stairs with your heel first instead of your toes – it's also better for your knees. 
PLATEFIT 
With only 2 locations for now, PLATEFIT is a 30-minute intense workout class aimed at toning and busting that cellulite. It's not #BougieOnABudget certified but new clients can get 2 weeks unlimited for just $49. If you go 3x a week, thats just a little over $8 per class! Take advantage of this special and go with a friend to keep you motivated. 
POPSUGAR Online Videos
Okay, so I JUST discovered that one of my favorite sites, POPSUGAR, has a fitness section with videos! They have amazing 30 minute videos that you can do in the privacy of your own home and based on your interests/fitness goals. I love this boxing one. 
Insanity Max 30 by Shaun T
I freaking LOVE Shaun T and have done his Hip Hop Abs video several times throughout the past few years. Insanity Max 30 is a 30 minute workout that will kick your a** into high gear and can also be done at home or on vacation. I love that there are modifications for injuries and you can do it without feeling embarrassed. 
What are some of your favorite quick workouts? Sound off below!
Be sure to check out our partner, Body Love Athletica: