I've hopped on the new (except it's not really THAT new) social media bandwagon and am now on Periscope!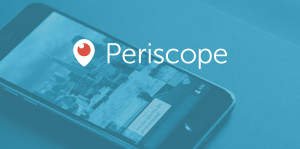 For those of you who have no idea what Periscope is, it's a new social media app where you can live stream video and also watch other people's live streams from all over the world. The company says that they "wanted to build the closest thing to teleportation", and it looks like they have! [highlight]What I love about this app is that people can join in and write to you during the broadcast, giving you a really interactive experience. [/highlight]
Starting TODAY, I will be live every Weds at 6:40PM (PST) with my friends Kirby Bridges (@KirbyBridges) & Nicole Ibinarriaga (@NicoleIbin) discussing all things entertainment & lifestyle. You can also catch me throughout the week live-streaming whenever I'm doing something interesting or interviewing someone awesome! You can follow me @NicMoraXO – same username as Twitter & Instagram.
If you have any topics you'd like for me to discuss, leave a comment below and I'll be sure to get to it! I'm so excited to get started with all of you!
xo [typography font="Cantarell" size="16″ size_format="px" color="#ff6666″]NM[/typography]